The 2006/2007 winter season for Denver, Colo. was brutal. And I would know. I live there. And, I ride the bus to work, which requires me to wait at the bus stop as the snow comes down and gathers by the inches. Luckily, I had my Marmot Ama Dablam Jacket. The core of my body was warm; however, my head, hands, legs and feet were freezing. I guess I should've been wearing Marmot's 8000M Suit (as pictured). That would've been helpful.
But, the Ama Dablam worked just fine.
During my time with the Ama Dablam, I realized that down jackets are fairly comfortable and exceedingly warm. The insulation is 650 fill goose down, including the attached adjustable hood. It's also ultra-light, weighing a little more than one pound.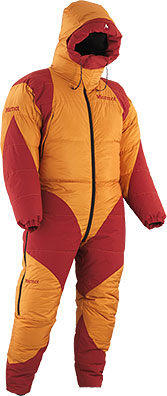 All in all, this jacket was heaven for snowshoeing around Denver. Throughout the winter, I was able to strap on my shoes and start stomping through snow right off my driveway. That global warming stuff is crap! Just joking. At least in Denver, it didn't seem like it was an issue – it was cold. But, yet again, the Ama Dablam came in handy during my snowshoe trips through the neighborhood.
Other features of the Ama Dablam include:
*Napoleon chest pocket vertical front chest pocket stores small items for quick access
*Inside zip stuff sack pocket allows you stuff the whole thing in its own pocket
*Elastic draw cord hem for adjustability in serious weather
*Zip handwarmer pockets soft fabric to warm hands
*Adjustable Velcro/elastic cuffs combination of Velcro and elastic for comfort an adjustability
*Wind flap behind front zipper protects against drafts
*Angel-Wing Movement allows full range of motion in arms so jacket doesn't ride up
*Shaped hem-dropped tail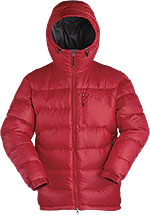 For the women, there ain't nothing better than the Guides Down Sweater. This thing is full of the same warmth that the Ama Dablam is known for – and it aims to please during snowshoe outings as well.
The Guides Down Sweater is form fitting, unlike the Ama Dablam – a feature that every outdoorswoman would want in a down jacket. All the features otherwise mirror the Ama Dablam. However, the Guides doesn't extend below the waist line – the Ama Dablam does. But, that isn't critical – unless you're in an area that has low sweeping winds that could affect your warmth.
One feature that I love about the Ama Dablam and the Guides Down Sweater is the inside zip stuff sack pocket. This allows you to stuff the jacket in its own pocket, which is a great feature for pack storage. I used this feature when I become overheated and very easily stowed the jacket in my day pack. Marmot just rocks!
For more information on the Ama Dablam, visit http://marmot.com/fall_2007/mens/outerwear/insulated/ama_dablam_jacket/overview. For more information about the Women's Guides Down Sweater, visit http://marmot.com/fall_2007/womens/outerwear/insulated/womens_guides_down_sweater.