At the La Crosse, Wisconsin headquarters and manufacturing plant for Redfeather Snowshoes, the word "new" has become part of almost every conversation from the factory floor to the sales and marketing offices.  But it's more than simply conversation; it is the reality of daily life at Redfeather Snowshoes.
***Advertisement***
Randy Christenson, head of design for Redfeather Snowshoes, summed it up when he said, "There is nothing we haven't touched, nothing we haven't revisited and revised, from processes to final product."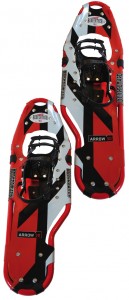 The result is one of the most exciting times in Redfeather Snowshoe history.
One example of the many changes at Redfeather is the full deck graphics on every snowshoe in the Redfeather Snowshoe lineup. What has typically been an industry-wide boring and bland look for snowshoes in general have become what Christenson terms "an individual statement" not only for the Redfeather snowshoe, but for the owner, as well.
But Redfeather is doing far more than simply creating more eye appeal for their products. Their products have taken another ground-breaking turn in overall customer-conscious design and use.
The company that changed snowshoeing forever by creating the now legendary
Redfeather V-Tail has rolled out their latest breakthrough with the new Redfeather Arrow.  The Arrow is a hybrid western roundtail snowshoe with an asymmetrical design, allowing the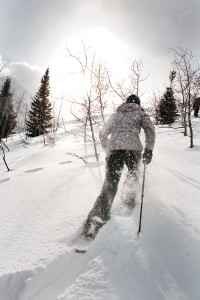 snowshoer's foot to literally "nest" on the snow without sacrificing maneuverability. Redfeather then added their Summit injection molded bindings that "stand up" and allow for easy entry and exit.  The result is a new, completely user-friendly snowshoe platform that is as fast as it is stable.
Redfeather has also turned their attention to providing a more enjoyable snowshoeing experience for women.
One of Redfeather's most popular snowshoes, the Hike, has become not one but two snowshoes; the Hike for men, and the Hike for women.  The new version of this traditional roundtail design was reconfigured and revised specifically to accommodate a woman's natural stride, allowing for an easy and carefree snowshoeing experience.
Then there is pure, unadulterated speed. And Redfeather came up with just the snowshoe to take winter running to an entirely new level.  The Redfeather Vapor weighs in at only 3 lbs., making it the industry's lightest snowshoe.  Hypalon decking and Redfeather's titanium crampon system also
make the Vapor one of the toughest snowshoes, as well.  A modified curved V-Tail on a 21-inch frame, combined with Redfeather's Live Action Hinge to lift the tail from the snow with every step, makes the Vapor a finish-line first place winner.
But anything "new" truly takes shape on the Redfeather factory floor.  Director of Manufacturing Mark Steigerwald points to Redfeather's Total Quality Improvement team and the changes that have taken place.  "We are extremely proud of the fact that every Redfeather Snowshoe is made in the USA, right here in La Crosse, Wisconsin," said Steigerwald.
"And we have something to show to all other snowshoe brands, and to snowshoe customers, that 'Made In The USA' really means worldwide leadership in quality and product performance."
For more information on Redfeather Snowshoes, visit http://www.redfeather.com.