It is a shocking statistic: More than one-third of all children in the United States are considered obese[1] and nearly one-third of Canadian children are obese[2].
Take a moment and think about that statistic. Think about the fact that the number of obese children in the United States has doubled in the last 30 years and the number of obese adolescents has tripled during that time.
Think about the hours spent in front of video games, iDevices, computers and televisions. Think about what we are setting our children up for in years to come. Think about what you did as a kid before this technology was invented, and think about the hours spent outdoors whether the sun was shining, the rain was falling or the snow surrounded you.
Think about what kids are missing out on today.
Winter is the perhaps the most difficult time of year to get the kids outside. Besides the days getting dark quicker and the cold temperatures, winter sports can get very expensive. From lift tickets to gear to transportation, winter activities come with a high price tag.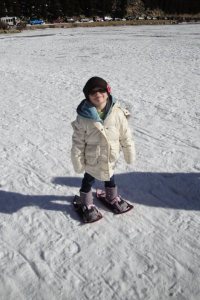 More and more these days it is becoming easier and more acceptable to put on a video game or TV show, rather than bundle the kids up and take them out. A recent study conducted by "Active Healthy Kids Canada" shows that most children in Canada are not meeting the recommended guidelines for physical activity. Only 7 percent of kids are meeting the guidelines at ages 5-11, and only 4 percent for those ages 12-17[3]. What this paints is a fairly bleak picture in Canada and the statistics get worse when we look at the United States.
Snowshoeing may just be the answer. At a relatively inexpensive cost with little skill required, introducing our children to this sport could perhaps put them on the path of loving the outdoors.
Perhaps we as parents need to put forth the effort into re-introducing our children to the outdoors. Teach them what we were taught when we were young: how to listen to the birds in the trees, how to appreciate the turning colours of the leaves and how refreshing it feels to embrace nature.
Let's make being active and outdoors fun again for kids. Rent a pair of snowshoes for yourself and the kids and go out and explore nature. Build a fire and roast marshmallows, step off the trail and let the kids lead you through the snow. Most importantly, teach them that the world begs to be explored.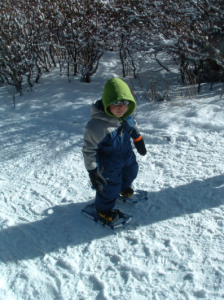 The great thing about snowshoeing is the easy factor; kids don't get frustrated because they aren't "good enough," they don't tire as easily because essentially it's like taking a hike and there is really no limit to what you can do on snowshoes. Watch the amazement on their faces as they climb up a hill and realize how much easier it is on snowshoes. Watch as they chase each other and fall over and get right back up. Watch as they examine the different patterns that their footprints now make.
Year after year, choose to embrace winter and choose to let your kids enjoy it. Don't keep them cooped up inside in front of the screen. Let them be free. Get your kids on snowshoes at an early age and teach them to appreciate the outdoors. Build their self-esteem and let them connect with nature, guide them towards a path that as they grow up will lead them to bigger and better things. Connect them with others that love the outdoors and that are doing meaningful things in our world.
For our job as parents is to guide our children to make great decisions, and loving the outdoors is one decision we should all encourage our children to make.
[1] http://www.cdc.gov/healthyyouth/obesity/facts.htm
[2] http://www.statcan.gc.ca/pub/82-003-x/2012003/article/11706/summary-sommaire-eng.htm
[3] http://www.activehealthykids.ca/reportcard/2014reportcard.aspx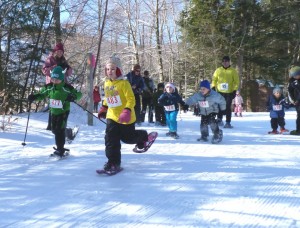 A few great resources for kids and winter sports:
http://www.snowlink.com/kid-zone/kids-on-the-snow/
http://winterwildlands.org/what-we-do/snowschool/