I don't own a cabin, but I love the mountain and cabin lifestyle, especially if snowshoes are required to get there. A unique way my family gets to enjoy that experience, is to spend a few days at a Colorado hut.
The Summit County huts are essentially rustic cabins that are not accessible by road in the winter. That means the only way in is to hike, snowshoe or cross-country ski along with all of your food and supplies. During Spring Break of 2011, we went to Francie's cabin in Breckenridge, Colorado. What an adventure it was! We'd previously snowshoed to a hut in the 10th Mountain Division Hut System, dragging our sled about three miles on a flat trail into the wilderness. So, how bad could a little more distance and vertical be?
This trip included my wife Kathy, daughters Nicole (18) and Megan (14), along with my wife's cousin Susie and fiancé Matt. We live in the Denver metro area, and had a delay getting to Breckenridge on Interstate 70 because of avalanche control traffic. Little did I realize, that this would portend things to come.
There are two ways to get to Francie's cabin, located on the outskirts of town at an elevation of 11,264 feet. You can choose a four-mile trail starting from the Breckenridge resort ski lift or a one mile trail starting from the end of a remote dirt road. Cousin Susie was worried that we'd have a hard time doing the four miles, but Matt and I were confident that it wouldn't be a problem. We'd snowshoed that distance, and father, many times before.
It was a picture perfect day, with bluebird skies and about 25° F outside when we got to the base of Peak 9 in Breckenridge and unloaded all of our stuff. And I mean all of our stuff—all 75 pounds to be placed on a sled for a two-night adventure. Each person had to carry their own clothing and sleeping bag, while I was in charge of dragging the sled with everything else.   Matt had his own 75-pound sled to pull, about 15 pounds of it in trail mix! It wasn't hard to conclude that we'd both over packed. All the skiers were staring at us with all our stuff and snowshoes, while they were enjoying a perfect ski day. I ignored them-what do they know about adventure?
The day before, the area received about three feet of snow. No one had broken trail yet, so we were snowshoeing through fresh powder. The ladies were ahead of us trying to pack down the powder, while Matt and I each dragged our sled. After going at it for about two hours, I checked my GPS and saw that we'd gone only about a mile. Everyone was getting worried that it would take too long to get there in this deep powder, especially since we had about 1,700 feet of vertical to climb. With deep reluctance, we chose to play it safe and headed back to the ski resort.
We checked local hotels to see if we could stay the night and maybe try again in the morning, but of course it was spring break so nothing was available. We decided to go see the shorter trail that Susie originally wanted to try. This trail to the cabin was one mile and only 1,000 feet vertical. At the end of a narrow mountain road, on the outskirts of town the road simply ended with a large pile of snow at the end, signifying the end of the plowed section. It was now about 3 p.m., and we were deciding if we should go for it again, when a cross-country skier came down from the trail. He said the trail was packed and it would be "easy" to get up to Francie's cabin. That's all we needed for inspiration.
After snowshoeing straight up for about a half-hour, I was getting really tired and asked my wife to help me pull the sled. The trail was not exactly "packed down" as the skier had indicated. Nicole and Megan helped Matt pull his sled, while Susie acted as our lookout. Doing the math, I determined that one mile and 1,000 feet vertical is about a 20 percent grade. What were we thinking? This trail goes straight up, and then up some more, and then even higher!
We were all getting really tired, and had to take a 30 second break every other minute. I was starting to worry that maybe we'd made a mistake to try again so late in the day and already feeling tired. Was I going to have to remember all those survival tips I'd read in various magazines? How long could a mile take? Finally, after more than two hours of snowshoeing we could see the cabin, but there was a short steep section just before reaching it. Kathy and I literally had to crawl up the trail, digging our snowshoe spikes into the snow to make sure we wouldn't be dragged back down the trail from our heavy sled. I had visions of another ACL injury. It took another 10 minutes to get up and over that final steep section. I'd never been so exhausted in my life. We arrived about 20 minutes before dusk.
The log cabin was awesome, with two stories that could sleep up to 20 people, a stove and a gas range. Fresh snow was our only water source. The outhouse was even inside! That's what I call mountain luxury. We found our rooms and were almost too tired to eat dinner. But, we had made it safe and sound, and that's what counted. The six of us had an experience that we'd never forget.
The next day we woke up to a blizzard. The wind was howling and the snow was coming down, and we decided to spend the day inside the cabin relaxing, talking, playing games, drinking hot chocolate and just enjoying the beauty of the mountains. A few people who were already there were on their way home, and I was guessing that whoever reserved their rooms for this evening would simply quit and not make the difficult trek as we had done during perfect weather. But that afternoon, two families came up the hill with about seven children under the age of 10, and the adults dragging sleds as if they were weightless. It turns out that these age 20-something parents were part of the Colorado Alpine Rescue Team, who later told us that they decided to go to Francie's cabin because it was "the easiest one to get to." I declined to tell them that we tried going to the cabin twice, and the trek was the most physically demanding experience of my life. This truly was "the longest mile." When it came to dinner time, we found out that I'd forgotten to bring some of our food (not on purpose to save weight, mind you), so it was lucky we had extra trail mix. I think we brought enough food for a week, so there was no chance of starvation.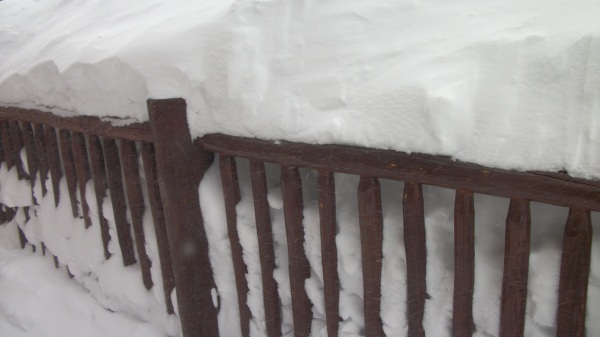 Everybody we met at the cabin, although strangers, all were friendly and came from different backgrounds and places. We had interesting conversations and we were all bonding with our cabin and snowshoeing experience. It was also great to spend time with my daughters without interruptions from cell phones, text messages, e-mails or other modern distractions. They weren't going to be kids much longer, and opportunities like this, while they were still kids, would be limited. I treasured it.
The next day it only took us 40 minutes to get down the hill, and with the reverse perspective, we were amazed that we made it up the steep trail. My daughter Megan wrote encouraging notes in the snow on the side of the trail for whoever was heading up the trail. I added this physical accomplishment to our "Bucket List."
We decided to go back in the summer and hike up the same trail to see what it would look like, and it was a great comparison to see the area without snow. I think back to that trip and fondly remember the family time, going to the brink of our physical capabilities and still "conquering the mountain," and just the simple wild beauty of the Colorado wilderness.