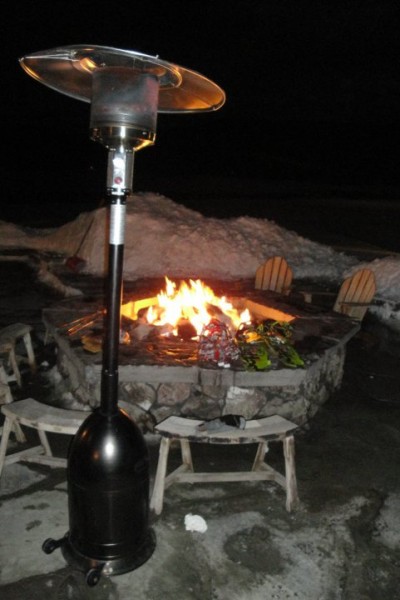 Want a guilt-free way to indulge yourself with food while exercising? Snowshoeing and cross-country skiing are two of the best forms of aerobic exercise. But, if you go on a "Gourmet Ski Tour" on your snowshoes or XC skis, you may very well eat your way to fitness at a number of trailside food stops. What a grand time, so go ahead, eat, snowshoe, ski, and be merry–appetizers, wine, champagne, fondue, entrées, desserts, and more.
Here's a cross-section of the culinary snowshoe ad XC ski events that are planned this winter across the country with varied menus of fun and fine cuisine.
EAST
Smugglers Notch in Vermont has Sweets and Snowshoes every Wednesday night from 7 to 9 p.m. for adults only. Hot cocoa, coffee, and three desserts await snowshoers after a 30-minute trek to a pavilion and campfire. Kids can be dropped off at a special Kids Night Out program.
Eastman Cross Country's Nordic Nibbles in Grantham, N.H., on Jan. 13 has a Scandinavian theme with a visit to a fire pit at each stop for cheese from a local smokehouse, Lindt chocolate, gingerbread cake and pastries, local dairy milk for hot cocoa, soup, and the main meal from 11 a.m. to 1 p.m.
The Sweetheart's Chocolate Tour at Bretton Woods on Feb. 16 with a self-guided tour to stops for sweets from 10 a.m. to 4 p.m. And, enjoy the Sweetheart's Ski or Snowshoe Tour by candlelight from 7 to 8 p.m. that evening.
Dartmouth Cross Country Ski Center's "Howl at the Moon" event is a walking event at night on a short golf course path lit by torches and fire pits hosted by local restaurants in Hanover, N.H. on Friday, Feb. 22.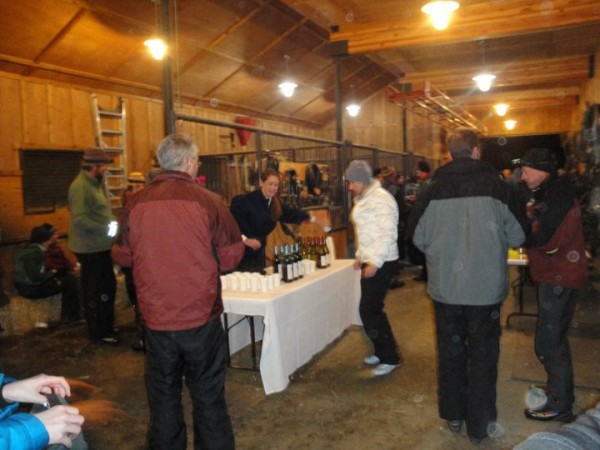 The Chocolate Festival at Mt. Washington Valley Ski & Snowshoe Center in Intervale, N.H. on Feb.24 is an inn-to-inn affair at 10 to 12 stops to experience your chocolate fantasies including moose and fondue. Go on a tour of any length and actually gain calories, even if you ski as far as 20 kilometers. A shuttle is also available for those that have overindulged.
CENTRAL
The Upper Peninsula of Michigan in Ironwood features cuisine from local restaurants that can be purchased at a nominal fee along a designated route along the trails at the Taste of the Trails on the ABR trails on March 2 from 11 a.m. to 2 p.m.
MOUNTAINS
Snow Mountain Ranch in Granby, Colo., hosts the GrandHuts.org Progressive Dinner on Feb. 23 with a multi-course meal at outposts along the trail.
Just Desserts Eat & Ski in the Enchanted Forest in Red River, N.M. on Feb. 23 features goodies from 20 different local restaurants at three trailside stations with up to 100 desserts within a 4-kilometer loop. Also the Ski & Snowshoe Dinner Tour is on Dec. 22.
Crested Butte Nordic Center has Sunday Brunch @ the Yurt reached by a 2-kilometer tour, the Full Moon Dinner @ the Yurt, Valentine's Dinner, and Fundraiser Dinners on scheduled dates.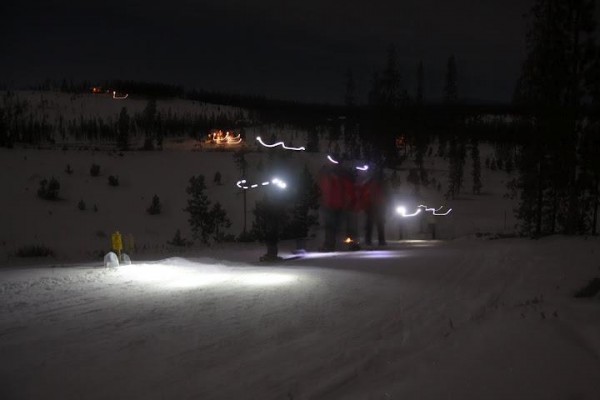 Look to the Galena Lodge in Ketchum, Idaho, for the Full Moon Dinners on nights associated with the full moon, whereby you can go ski or snowshoe (half price rental gear offered) and then return to lodge for a four-course dinner at $40 or half price for kids under 12. There are also special Wine Dinners, Holiday Dinners, and a Valentine's Day Dinner.
Lone Mountain Ranch in Big Sky, Montana has the Glide & Gorge event on March 10 from 1 to 3 p.m. with trail luncheon stationed with appetizers, soups, entrées, desserts from the Ranch's four-star kitchen. Local brew, wine, music and shuttles included for $40 (pre-registered) includes the ski pass. There's also a trailside one-stop buffet every Friday that can be reached on foot, snowshoes, or skis located so that one can either begin or finish their outing with the feast.
WEST
Tahoe Cross Country's Gourmet Tour in Tahoe City, Calif., on March 10 is a two-hour affair (1 to 3 p.m.) to sample a dozen of Lake Tahoe's finest north shore restaurants featuring stops for seafood, crab cakes, soup, wine and pasta. Also, snowshoe or ski to a hearty breakfast meal right out on the trail on Jan. 1 and March 23, and BBQ on the trail on Feb. 9.
Cypress Mountain outside of Vancouver, B.C. has Chocolate Fondue Tours on Friday and Sunday nights starting at 6:30 p.m. and the Cheese & Chocolate Fondue Tour on Fridays and Sundays from 6 to 10 p.m. Tours are organized by pre-registration. Ladies Only Chocolate Fondue Snowshoe Tour on Jan. 11, Feb. 8, March 8 at 6:30 p.m.