I have a problem; I collect jackets the way some people collect trinkets from other countries.  My coat closet features coats for blizzards, snowshoeing, skiing, jogging, rain, traveling, backpacking, work, nights out on the town and more.  With so many jackets to choose from, I was a bit apprehensive to take on yet another one, but there was a silver lining with this jacket, both literally and figuratively.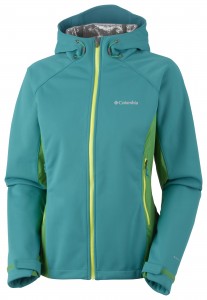 The Columbia Triteca is not only a beautiful eye-catching piece of fashionable clothing (no matter what color you choose); it is a functional, versatile and comfortable option that I take with me everywhere.  I have worn the jacket in the rain, snow, sleet, fog and a brisk morning as winter settled in and at all times I was comfortable, happy and warm.  I've also worn the jacket hiking, biking, running, walking dogs and during the first Colorado snow fall and I will wear it during my first snowshoe trip next month.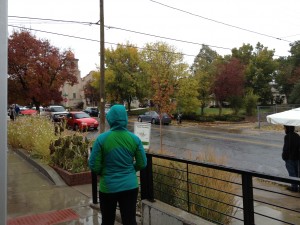 The Triteca features Columbia's Omni-Wind Block ultra-breathable windproof membrane, their newest technology.  The jacket also features Omni-Wick EVAP located in the underarm area to help keep you dry and remove perspiration.   The best part?  Columbia slimmed the silhouette of the jacket to decrease bulk and allow for a more natural movement.  Now I don't feel like a snowball walking around town and the slimmer silhouette is easier for backpacks and hiking.
The silver lining is that the jacket works well for cold days when you are exerting energy and there is also a silver lining in the jacket – literally – that makes it a very popular piece around my friends.  This jacket, in my opinion, is a must have for every coat closet.  In fact, I find myself feeling guilty when I pass my coat closet; for the past two months, I have only been grabbing the Columbia Triteca and I am sure my other jackets and coats are getting a bit jealous.
For more information or to purchase the Columbia Triteca Softshell, click here.
Features:
Omni-Wind Block ultrabreathable windproof
Omni-Heat thermal reflective
Omni-Wick EVAP advanced evaporation
Bonded softshell
Two-way comfort stretch
Hybrid for stretch and breathability
Attached adjustable storm hood
Waterproof zippers
Drawcord adjustable hem
Contoured sleeve cuffs
Backpack compatible
Abrasion resistant chin guard
Drop tail