If you are looking for a hiking or travel backpack that is comfortable, breathable and overflowing with innovative design features, you've found it in the Osprey Aura 65. I like to say that with this pack, you can carry your dreams on your back because it is versatile and allows you to go where you need, while efficiently carrying what you need.
My pack is Pinon Green, but you can also choose from Eggplant Purple. Whichever color you choose, this backpack is well-made and sturdy, providing confidence that you can roughly toss it around without worrying about breaking the frame or tearing the material.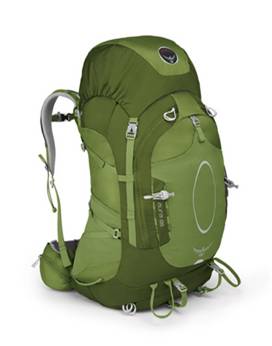 The pack is lightweight, and the fit is snug and comfortable. Each strap is customizable, so I was able to get the fit just right for my frame. The hip belt supports a majority of the pack's weight, taking the pressure off of my back and shoulders.
There are straps galore, and nearly every one is adjustable. I've used the Aura 65 for a weekend getaway where I kept the straps tight around a light load, and I've taken this backpack camping and let out the straps so that I could stuff my pack to the seams. No matter how much is in my pack, the ventilation factor is key. Whether hiking on remote trails or trekking through the airport, the mesh backing enables air to circulate along my back. This helps prevents profuse sweating and aids in keeping me cool.
There are so many great features that it's hard to choose my favorites. The large open pocket on the top of the pack is perfect for stashing jackets or other gear that you want to quickly and easily access. I also love the open side pockets for water bottles or snacks. Each side of the hip belt has a small, secure zipper pocket that is perfect for lip balm, cash and identification, preventing these small, yet important, items from getting lost in larger pockets.
Speaking of larger pockets, it's extremely convenient that the main storage space is accessible via two side zippers on the top of the pack. Although I pack by stuffing clothes and other goods through the top of the pack, filling the cylindrical space, it is heavenly to be able to access these items through the side pockets and not have to unpack everything to reach something on the bottom of the pack. I have also made great use of the top pocket that folds over to close the pack. I've been able to separate medium-sized items (socks and underwear) so that they don't get lost among bulkier items in larger compartments. Everything remains reachable and organized every step of the way.
Osprey offers a variety of high-quality outdoor gear. The Aura 65 Backpack retails for $239, and you can find additional products and details at www.ospreypacks.com.
To purchase the Osprey Aura 65, click here.