If you are keen to experience superb Vancouver Island fishing in a region where you can fish for Coho Silver and Chinook King salmon, then the place to be is one of Canada's premier fishing lodges in beautiful British Columbia. Nootka Wilderness Fishing Lodge is located in Nootka Sound off Vancouver Island's unspoiled west coast. This is an acclaimed fishing lodge that offers much more than just world class chartered salmon fishing. It is also known for its spectacular floating fishing resort as well as superb gourmet seafood meals.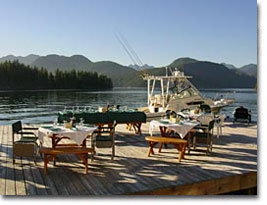 Nootka Wilderness Lodge is a resort worth visiting year after year. A typical four-day trip starts from Campbell River on Vancouver Island's east coast. Here you board a float-plane for a ride over spectacular mountain scenery. Thirty minutes later you glide into land on Nootka Sound. Waiting for you is an air-taxi which chauffeurs you to the dock where Lodge staff and your own fishing guide warmly welcome you. Once the formalities of finding rooms and unpacking are over, you are given an orientation on Lodge procedures and how to get the best out of your visit. Following an indulgent gourmet lunch, it's time to catch the tide for your first memorable experience of Nootka Wilderness fishing.
Your adventure includes this first half day's fishing as well as three full days. With your own experienced guide to help you, trophy sized salmon – 25 to 45 pounds and some breaking the 50-pound barrier – are often as close as just a few minutes away, in a region famous not only for world-class angling, but for birdwatching and breathtaking, rugged scenery.
Wildlife is abundant and includes whales, bears, eagles, diminutive and inquisitive sea otters and so much more. Key months for prized salmon fishing are June, July and August – the peak fishing times every year. A time when stock in the river basins of neighbouring Oregon and Washington State are beginning to subside.The Lodge also offers its guests eco tours through Nootka Sound that will simply leave you lost for words. There is such an endless variety of wilderness and history to experience in this protected remote haven, along with a dramatic and unspoilt coastline.
The resort's experienced fishing guides take you into the great outdoors amongst the best fishing grounds, but it's down to you to decide whether you want to fish for trophy Coho and Chinook with a light tackle, or be more adventurous and battle the more stubborn Ling Cod and monster Halibut. Without the need to challenge heavy seas for the feeding grounds of the mighty Coho and Chinook salmon, Nootka Sound offers the option of saltwater fishing in calmer inside waters, rather than venturing out into the wild open Pacific.
The Lodge operates a fleet of 'Grady-White' boats which are unmatched anywhere on the west coast. With on-board bathroom facilities and their large cabins you are well protected against the elements as you chase that potential prized catch. The resort's experienced fishing guides are very much the centre of the Lodge's reputation. Their dedication and skills have resulted in re-booking rates exceeding 90 percent over the last decade.
A typical battle for that prized catch can last anything from twenty to thirty minutes. The goal is always to land a 'Tyee', a native name for a Chinook which has attained the 30-pound mark. These are the true trophies of the species and it isn't uncommon to have several hundred yard runs to land one – runs which are nearly always deceptive and often repeated. Finally at the end of each day, your guide will weigh your catch, photograph and prepare it for transportation. Such is the level of service which results in guests returning year after year. Once back on dry land, why not give those casting and reeling arms a well earned break. Relax those tired muscles in the Lodge's hot tub and then compare notes as you enjoy a refreshing drink in the fully licensed bar.
The Lodge amenities are extensive. Its spacious rooms have private bathrooms with bay views and are available for non-smokers. Meetings and events are fully catered for and with a private garden and private car parking, its quiet location is ideal for getting away from humanity. There truly is something for everyone at Nootka's Wilderness Fishing Lodge, where they promise to help you experience Vancouver Island fishing at its finest. This is a five-star resort where you will definitely "arrive as a guest and leave as a friend" – www.nootkawildernesslodge.com has all the details.