If you like snowshoeing around Santa Fe, New Mexico, then Aspen Vista may be one of your favorite trails. This is a "well traveled" trail that can go as far as Tesuque Peak with its famous radio towers and six miles of steady climbing.
What makes this trail so popular is that it is easily accessible. After a snowstorm, you will need at least a front wheel drive car with snow tires to make it up the 14-mile winding road, but after a couple of "dry days" you are fine in any vehicle.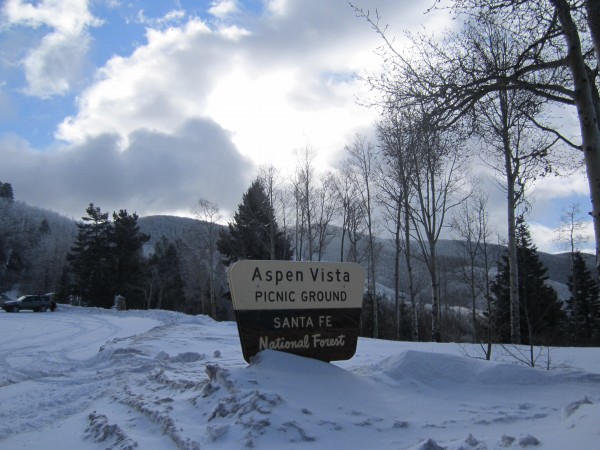 The trailhead is very well marked. This hike is rated "easy to strenuous, depending on the distance traveled" according to The Sierra Club's very popular guide book "Day Hikes In The Santa Fe Area".  This is very true for both the summer and winter. You do not need to go to the very top. You can turn around any time and still come back to your car feeling totally rejuvenated and with a sense of accomplishment. In the summer, you will see an abundance of wild flowers and awesome mountain views. In the winter, you will be mesmerized by snow capped peaks and statuesque aspen groves.
Over the years of hiking this trail, famous for its Aspen Vistas (views) in the fall, somehow winter nights became my favorite time to snowshoe with my husband Pete and our labradors Jackson and Wheeler.
First of all, our dogs are crazy and it is hard to take them to a dog park. We also work full time and we both love the outdoors. We ski on our days off and feel sorry for the pups, so we have to take them out at night to Aspen Vista. They love to see the crate installed in the back of Pete's pickup. It means "we are going".
If you get there around 5.30 p.m. this time of the year, the sun is just beginning to set. The light is truly magical, reflecting the snow on all the firs and spruces.  Aspen Vista is easy to hike or snowshoe at any time because it is part of an old (maybe still used, I do not know) forest service maintenance road.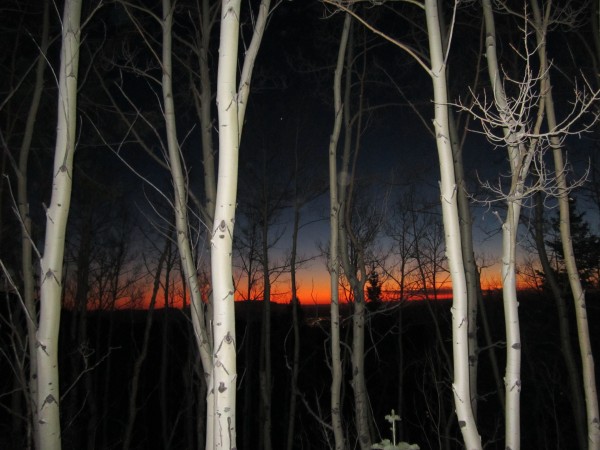 It is hard to get lost, until you pass the tree line, near the top, and then it becomes tricky.  First of all, not many hikers, snowshoers, or cross-country skiers want to go so far.  Secondly, at night, for Pete and me it was almost impossible to get to the Towers because, above the tree line, the trail becomes an open alpine bowl and you get totally disoriented. You can hear and even see the mechanical snowcats' headlights grooming the Gayway ski run at the Santa Fe Ski Area, but you really do not know how far from Tesuque Peak Towers you are.
After years of getting confused, we finally decided that when we emerge from the trees we won't even bother going further, we will quietly enjoy the night-view of the Jemez Mountains and the lights of Los Alamos.  If you want to go to the Towers, go during the day.