Located in the Canadian Rockies, with an area in excess of 800 square miles, the Mt. Robson Provincial Park is the second oldest in the province. The park is a World Heritage Site and for the keen outdoor enthusiast, there is much to see and plenty to do.
Hiking trails stretch for around 125 miles and range from casual afternoon saunters to full-blown backcountry adventures. Yellowhead and Moose Lakes provide boating, camping and canoeing, while Robson Helimagic in Valemount serves up a guaranteed adrenalin rush as you approach Mt. Robson and the neighbouring Cariboo's 900 square miles of skiable terrain from the air. No matter what your age, taste or budget, the territory has something for you.
To start your excursion into this mountainous and stunning Provincial Park, make your first stop the visitor information centre off Highway 16. Their personalized services will provide you with everything you need to make your journey memorable. The friendly staff are very well acquainted with the region and can assist with accommodation, travel and transport information as well as planning that all important itinerary. It's here that you can register for the famous Berg Lake Trail, add some distinctive Canadian casual wear to your wardrobe or search out a piece of British Columbia memorabilia. The visitor information centre opens from May to September.
If you've ever wanted to try snowshoeing, the Robson Provincial Park is definitely the place. It has become an ever popular and wonderful way of taking in the breathtaking scenery. Strap them on and start to explore. Wander along the many trails at your own leisurely pace, look out for scattered wildlife tracks in the snow, or stop and admire huge old-growth trees as you crunch along a well-marked loop or float across fresh powder.
Robson Helimagic offers a four-hour guided snowshoe tour to the Berg Lake area from Mt. Robson's visitor centre. Their package includes a return flight and picnic lunch at Hargreaves Chalet with hot drinks around a welcoming fire. Photo opportunities are plentiful, so be sure to bring the camera. For a fun and healthy sporting activity and for full details visit www.robsonhelimagic.com.
For some of the most breathtaking scenery in the whole province, the stunning Berg Lake Trail stretches for over 14 miles through the appropriately named Valley of a Thousand Falls – the biggest concentration of falls in Canada. This is possibly one of the most picturesque and popular trails in the Rockies and ultimately brings you to Berg Lake. Taking a peaceful, guided snowshoe tour of such a beautiful and pristine location provides a simply memorable experience.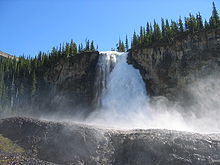 Guided by a naturalist, it's the perfect way to see and explore the stunning scenery around this vivid turquoise lake. On the way you pass amazing glaciers, canyons and waterfalls like the Emperor Falls. One of the best known on the Robson River, these spectacular falls cascade for around 150 feet. As the tumbling veil of water strikes a rocky ledge almost halfway down, it's nearly impossible to avoid a soaking. Varied species of native wildlife are often seen from the trail including grizzly and black bears, elk, moose, caribou, mountain sheep and goats. Birdwatchers can also expect to see more than 180 species of birds.
Berg Lake's campsite is also a great starting point to discover and explore some of the Provincial Park's other trails such as Toboggan Falls. This is quite a steep trail but the climb is well worth doing as it leads to a shallow waterfall with a superb view of Berg Lake and Mt. Robson.
Camping in the Provincial Park ranges from sites providing all amenities to the most primitive with nothing but bare essentials and outdoor toilets. One of the best campsites is Robson Meadows at the park's west end. This offers over 120 sites on the shores of the Fraser River, close to the Mt. Robson visitor centre. It is well protected by trees, has a store and restaurant and is just a short stroll from the Berg Lake Trail. It offers privacy, plenty of shade, as well as peace and quiet.
The campsite is accessible by vehicle and opens from May 15 to September 30. For details of camping fees and reservations, call (250)-566-4811 or visit www.discovercamping.ca.
Nestling beneath Mt. Robson is the quaint and welcoming Mountain River Lodge. This delightful accommodation replicates a Swiss chalet and sits on the banks of a glacial river. It offers bed and breakfast or private self-catering cabins. All the main lodge rooms have private bathrooms, some with balconies.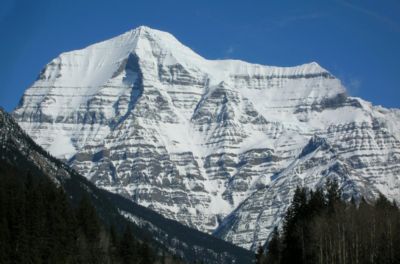 Self-catering cabins, perfect for families or longer stays, are equipped with full kitchens, satellite TV, outdoor gas barbecues and balconies with stunning views. Some pet-friendly cabins are also available. Some of the lodge activities include river rafting, wildlife safaris, horseback riding, heli-hiking and boat tours. For reservations and details, call 1-250-566-9899.
If the idea of a log cabin is more appealing, the Mount Robson Lodge is the place to be. This family owned accommodation is in a prime location overlooking the Fraser River. It provides a perfect base for exploring the Provincial Park and its surrounding territory. The cabins are all self contained with full amenities and can sleep up to six people. The Lodge offers the warmest of welcomes, with a breathtaking view of Mt. Robson included in the deal. For details call (250)-566-4821 or visit www.mountrobsonlodge.com.
With its heavily glaciated terrain and vast size, Mt. Robson has developed a micro-climate all of its own. Its summit is looked on by many as the ultimate experience, with frequent inclement weather and testing routes adding to the challenge. It presents a climb for none but the most experienced. Unexpected avalanches, blizzards, rock and icefalls all will present their own hazards. Yet, if you travel a little way beyond Mt. Robson, the scenery tells its own story.
You'll discover the headwaters of the mighty Fraser River, countless peaks, steep sided valleys and spectacular glaciers. Towering at more than 12,900 feet the highest peak in the Canadian Rockies is undoubtedly the Provincial Park's main focal point. Therefore, it's no real surprise that visitor numbers have averaged well in excess of 500,000 annually.