This year measure your holidays by moments rather than gifts. Yosemite always offers cool options for outdoor adventure followed by soul-satisfying après-snowshoe events.
Wine Pairings
Join a master sommelier for a wine tasting seminar and a winemaker's dinner featuring a five-course meal, well-thought pairings, and a chance to talk all things wine with regional vintners. [Starting November 6 through December 8 – for more information, click here.]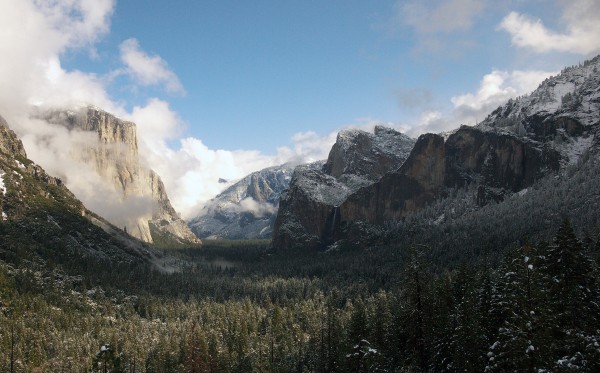 Bracebridge Dinner
Experience a 17th Century feast of food and spirits. For the last 27 years the Bracebridge Dinner has become a favored tradition. The Ahwahnee Hotel's grand dining room is transformed into an Elizabethan-style theater where guests role-play with wait staff and actors bring authenticity to the middle age's feast. Tickets are pricey but the experience is too rich to pass up. [Starts December 13 through December 25 – for more information, click here.]
New Year's Eve
What better way to end 2011 than by snowshoeing along Tenaya Creek to Mirror Lake. Here you'll gain a different perspective of Half Dome and North Dome's storied granite walls and have a nice image to remember as you ring in 2012. Choose from one of three Yosemite celebrations. [For more information, click here.]
•Go from GORETEX to black tie at The Awahnee Hotel's formal dinner and dancing-themed party.
•Bringing the family? No problem. Yosemite Lodge offers family ambiance, kid-friendly events–games, prizes, balloon drop, and a DJ spinning parent-approved bop–and a casual dining and live entertainment scene for the two of you.
•Classic holiday charm your thing? Wawona Hotel, located at the southern entrance to the Park, is that charming choice for you and the family.
Not much of a planner?
Just because you're not a planner doesn't mean you can't enjoy the holidays in the Valley. After exploring Glacier Point on foot, finish your day in front of the Ahwanee Hotel's fireplace. It's the centerpiece of the grand lounge and surrounded by comfy arts and craftsmen-style couches and décor. Subtle holiday lighting provides a tangible feel to the season. Or spend the evening at Yosemite Lodge's Mountain Room Lounge. It's casual, it's warm, and the drinks are good.