With snowshoe season just around the corner, here are several options for gearing up.

Blundstone 560 Series Boot
With a history dating back to the 1850s, Blundstone, an Australian company, has been making dependable footwear while establishing its stellar reputation Down Under. As good looking as they are tough, the Blundstone 560 series is a classic boot design with Thinsulate technology. Retailing
for $200, the 560 is a slip-on, mid-height boot that's guaranteed to keep heat from escaping into the bitter cold. Other features include:
•Premium oil-tanned, single piece leather uppers with rounded toes
•Dual elastic gore runs down to the ankles creating a comfortable fit
•Front and back looks make it easy to get the boots on and off
•Removable, anatomically shaped comfort footbed
•Shock absorbing heel unit provides cushion for all day comfort
•Steel shank reduces torsional flex, adding stability
•Dual density direct injected polyurethane sole with 4 mm tread
For more information on Blundstone boots, visit www.blundstone.com. To purchase some Blundstone boots, click here.
SteriPEN Freedom Water Purifier
New on the market this fall, Hydro-Photon, Inc. just released its latest innovation in handheld water purifiers: the SteriPEN Freedom. The new Freedom is SteriPEN's smallest, lightest and first rechargeable UV water purifier. Eco-friendly, the SteriPEN Freedom's integrated battery recharges via a micro USB port. Users can recharge Freedom using their computer, an AC outlet, or compatible solar charger, making it ideal for outdoor, business, and adventure travel. The versatile Freedom also serves as a convenient LED flashlight.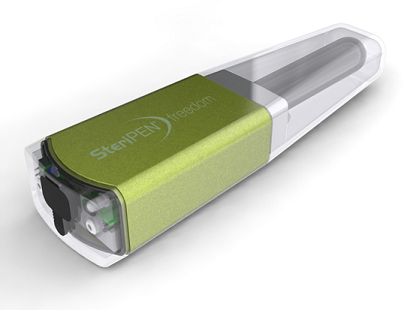 "I'm really pleased with the amazingly compact size of the Freedom," said Miles Maiden, inventor of SteriPEN. "I think SteriPEN customers will truly be impressed by how small it is. And in a world where USB charging is becoming the standard, I think Freedom customers will appreciate recharging the device via its USB port."
Using instant-on technology with LED indicators, the 5.1 in., 2.6 oz. Freedom is highly portable and easily fits in a briefcase, backpack, handbag, or pocket. This UV water purifier is simple to use—just remove the lamp cover, immerse the quartz-encased UV lamp, and stir for safe drinking water anywhere. In just 48 seconds, the germicidal UV light destroys more than 99.9 percent of bacteria, viruses, and protozoa such as giardia and cryptosporidium. After being fully charged, the SteriPEN is good for about 40, 16 oz. treatments of water. The battery and UV lamp life is 8,000 16 oz. treatments.
The SteriPEN comes with a USB cable, AC adaptor, and neoprene case and retails for $119.95. For more information or to order, visit www.steripen.com. To purchase a SteriPEN, click here.
Osprey Backpacks
Since the company's inception in 1974, Osprey Packs, Inc. has been setting the standard for creating innovative, high quality back packs, like the Karve series introduce last year. The Karve series offers sharp styling and practical utility for wintertime outdoor activities like snowshoeing.
Karve series packs come equipped with a fixed, EVA foam padded insulated harness featuring an adjustable sternum strap and rescue whistle buckle. Continuous zippered access from the hydration reservoir compartment to the insulated hose sleeve in the harness allows ease of use and access and full insulation in adverse weather conditions. There's also a removable hip belt.
Karve series packs also feature a removable webbing hip belt with a modified straight ErgoPull closure system providing extra leverage when cinching down the hip belt. A thermoformed, sculpted back panel combined with an HDPE frame sheet provide comfortable carry and load support.
Additional shared features for all Osprey Karve backpacks include:
•Thermo-formed backpanel with HDPE plastic frameset
•EVA fixed harness with slide adjustable sternum strap
•Removable Ergopull waiststrap
•Continuous zippered access from hydration reservoir to insulated hose sleeve in shoulder strap
•Diagonal ski carry with retractable cable and removable hypalon reinforced compression patch
•Small zippered pocket for keys, compass, or money
•External quick access sleeves for shovel handle and probe
•Full foam padded front panel to prevent ski edge wear
•Internal shovel blade storage
Osprey Karve packs come in three specific designs: the Karve 16, Karve 11, and Karve 6. The Karve 16 is a full-featured, technical sidecountry snowplay pack that's perfect for a snowshoe adventure. Three compartment organization featuring a zippered front pocket for shovel blade and goggle carry. The Karve 11 is slightly smaller than the Karve 16, but features the same design elements. The Karve 6 is a low profile technical sidecountry snowplay pack that's for shorter outdoor trips.
To celebrate its 35th anniversary in 2009, Osprey launched the All Mighty Guarantee, an enhancement of a lifetime warranty that was already one of the most robust in the industry. Free of charge, the company will repair any damage or defect in its product – whether it was purchased in 1974 or yesterday. Every Osprey product reflects the company's commitment to protect the wild places its customers love to explore.
For more information, visit www.ospreypacks.com. To purchase an Osprey Pack, click here.