When I found out I was going to gear test Columbia Sportswear's shell offerings for a heli-ski trip I was planning, I had mixed feelings. I love gear but I wasn't sure I would love Columbia's. I even questioned my friend Randy on a morning mountain bike ride. Without prejudice I asked, "When I mention the brand Columbia what immediately comes to mind?" His reaction was the same as mine – words like heavy, non-technical, and entry-level spilled from his lips. Then the jackets – the Women's Peak Power shell and the Men's Peak 2 Peak shell – arrived at my doorstep and I was forever changed. This is not your neophyte-neighbor's outdoor wear.
I immediately pulled on the sleek women's Peak Power jacket while examining the men's version – the Peak 2 Peak. Without prejudice words like light-weight, stylish, thoughtful, and holy shit, this is super-techy burst forth. I cringed at my snobbery: I hadn't been paying attention.
To the touch the jackets felt soft and pliable, and almost weightless. Mere ounces as opposed to pounds. The unique wispy character of Columbia's shells is their Omni-dry fabric used in construction. It's an ultra-light waterproof laminate that is 50% air – making it not only breathable but 75% lighter than competitor's shells. Columbia's claims not mine.
Women's Peak Power Jacket
I took their declaration as a challenge and reached into the closet in search of my current go-to shell manufactured by another well-known adventure gear company. I inspected the jackets side-by-side. A perfect match in terms of function – stay dry, ventilated, and warm using a combination of textiles, pit zips, a hood, sealed seams, and secure closures. Only Columbia's Peak Power jacket beat the sleeves off my two-year old shell. The Peak Power was significantly lighter, surprisingly spot on when it came to thoughtful design features, and considerably more comfortable to wear.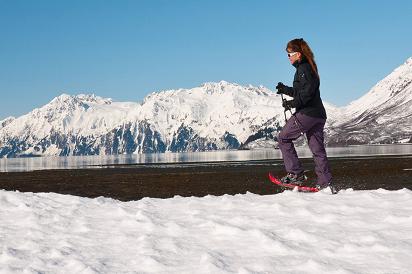 The Peak Power sports a super light configuration with pit zips, flat-seam zippered pockets and closure, and an attached but stow-able hood. Unwilling to wait for a rain storm to materialize at my Southern California base camp, I tested the shell's construction under a water spicket in my front yard. The waterproof material performed well despite my crude procedural approach. Next, check it against wind. The afternoon had been gusty and temps had dipped down to 45 degrees. I wore the Peak Power jacket over a thin base layer. The still wet exterior of the shell did well to fight the wind while maintaining a toasty interior. Based on this I decided the Peak Power shell passed my makeshift tests well-enough to end up on my final packing list. I tossed aside my own shell and took Columbia's instead.
During heli-excursions I layered the Peak Power jacket over a down sweater. Under a cloudless sky temps on the glaciers hovered on either side of 30 degrees. The Peak Power added that extra hint of warmth and I took advantage of the adjustable draw cord hem and 'drop tail' design – longer at the center in the back. Both of these features worked to ensure my lower back and hips stayed warm even when kneeling in the heli's downdraft waiting to reload for another epic descent.
The shell scored big points with me for venting. A lapel tab allowed me to completely unzip while keeping the sides of the jacket from flapping around. While not cutting edge, I did love the inclusion of two-way pit zip vents.
During my stay I took this jacket on a snowshoe trek along Valdez's Shoup Bay Trail. Atypical spring weather delivered brilliant skies but because the trail traces the shoreline of Prince William Sound, I brought it along for warmth. After passing over ridges and down the steep mountain slopes, winds contour the Sound and funnel towards Valdez. The Peak Power packed up small and tight, stowing easily in my low profile hydration pack but was quick to unfurl when I required additional heat.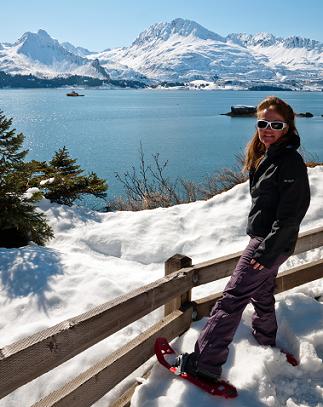 Other features worth mentioning – detailing at the back of the shoulders prevented my hydration pack from slipping off and an internal pocket kept my phone accessible. The hood included a brim that inspired the confidence that it would direct rain away from my face during a storm. It's worth mentioning packability again – it stored well in a limited space. Not something my own bulkier and heavier shell did as perfectly.
Overall the Peak Power jacket's sizing was true to form. Neither tight nor loose, it allowed for layering without the need to size up. As a stand alone jacket, it felt tailored – fanning nicely from my waist to my hips. In truth, I couldn't find a downside to Columbia's Peak Power shell and I would choose it over any other offered at the same price point.
Men's Peak 2 Peak Jacket
Up to the challenge – it's no wonder this jacket received Outside magazine's 2011 Gear of the Year award in the shell category. This impressed my partner Scott enough to take it along on a snowshoe hike.
His initial reaction, "It's lighter than any shell I've tried on or owned and I like that." He also liked the jacket's breathable construction. "Based on the feel of the shell's surface, I was surprised it ventilated so well." He noted that a dry interior was paramount to his decision to purchase a shell. This included a well-functioning hood. "The brim of the hood definitely had the girth to prevent rain and snow from interfering with vision and my comfort," he added.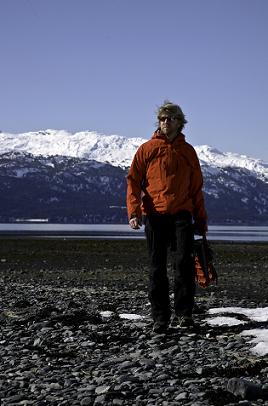 Overall, Scott was surprised by the sophistication of the Peak 2 Peak shell. He felt the sizing was correct and applauded Columbia for producing a jacket that successfully addressed the foundational purpose of a superior shell – protection, comfort, breathability, and warmth. He also gave kudos to the lapel and pit zip tabs. While he would not fault a jacket that lacked this attentive detail, he appreciated the utility: maintaining the jacket's form in the front and under the arms while allowing exceptional air flow.
To learn more about Columbia Sportswear's women's Peak Power and men's Peak 2 Peak shells, visit http://bit.ly/lXWr7f and http://bit.ly/lDUQBe.
For a primer on the jackets, check out http://youtu.be/2jrYk9CTaZE and http://youtu.be/UXP-l4lPiNo.
To purchase the Columbia Peak Power shell, click here. To purchase the Columbia Peak 2 Peak shell, click here.