I was recently introduced as a fitness nut, which I thought was crackers. Replying, I wanted to use Pee Wee Herman's remark, "I know you are but what am I?" except definitely that was not appropriate in the setting. A gregarious guy by the way, very entertaining and fun, but fitness would not appear to be his bag.
Compared to many readers of Snowshoe Magazine, I don't come close to levels of fitness that would give ancient Olympians pause either, whether on snow trails or dirt trails. However, I do admit to being crazy about the fun we have. The whole concept of fitness including healthy eating like bunches of bananas while evidently going bananas prompted me to start thinking . . . an ancient art resurrected yet again . . . how did a high school freshman Phys. Ed. failure ever get labeled with the "F" word, as in fitness?
Now the year I referenced wasn't because I didn't try, but "coach" did not care for those without talent (check), not a ball player (check), and whose cool meter didn't move the dial (check check!).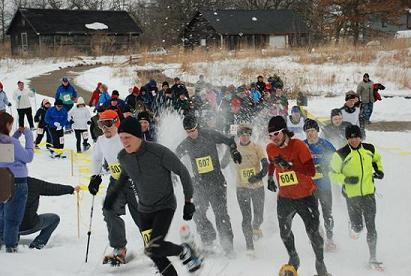 What I really wanted to say about qualifications as a fitness nut was — well, gracious company and my wife nearby caused me to employ a rare social skill . . . holding my tongue. Essentially the brain was racing, responding:
Boy, you should see the people I know. You would think they were insane with fitness. Wonderfully happy people who make health an art form with natural talents exceeding non-trail believers to a degree that almost makes one blush.
Trailites on damp dirt — or running on frozen water as fitness elite coach, Steve Ilg, calls snow — take care of themselves. Many compete at organized events, some who startle with their distances and terrains covered. Ilg identifies fitness as a spiritual practice on his popular site, "Wholistic Fitness." Notice he cleverly linked the "Holy" part of fitness with the "Whole," representing the entire sphere of an individual when fitness reigns. That doesn't seem so nutty; it rings true.
Ilg goes further in bold ways to offer transformation for those seeking fitness. Transformation! Life changing, full-speed-ahead thrusts into a world where one can achieve satisfaction with self even as the avalanches of life are burying the soul under torrents of snow and debris — you know . . . the daily grind.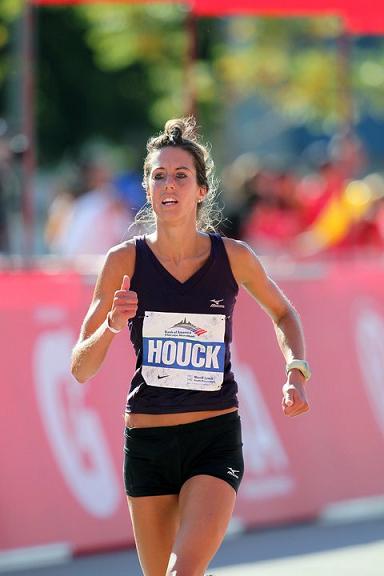 Many are crazy-happy about their time in the woods. I note with amazement how daylong conversations occur among runners while making way on a difficult traverse or technical terrain, the effort tearing into muscled quads like the IRS in your bank account. I'm struggling to survive, just to breathe, while they bounce merrily along enjoying the jaunt much as one enjoys strolling to a long-anticipated concert.
They are the fitness elite. I am a long-suffering wannabe never on that plane, bowing to a crooked-leaning physique after a trail race — I have a picture on the wall that would give the Leaning Tower of Pisa an attack of the jitters — proving a wacky heart of desire. Claiming fitness would not fit as an equal in this group, though unfit would be much further away.
I wrote of Maynard, a Midwest legend among Donald Clark, Mike Milloning, Larry Pedersen and others. He once commented to me as I fought to finish a 50-mile race for some, a struggle for me — he was part of a threesome sweeping the trails, to give you a sense of the rapid progress I was making — "Well, at least you aren't at home watching TV." Exactly. That was the spark of my thinking how one wins through losing.
It's impossible to be on trails or compete on trails with snow or dirt covering them without winning on some level. The elite who may fail to reach a particular goal won't necessarily feel quite this way but will understand how in shape they really are and the pleasures received.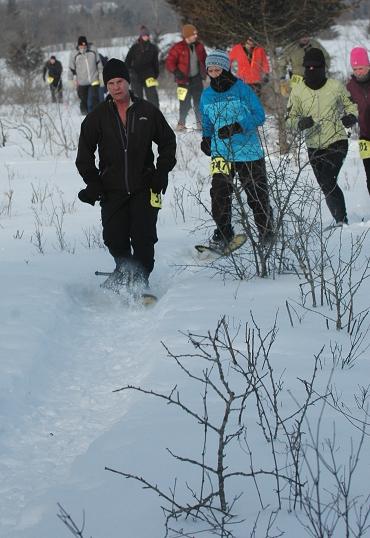 Let's suppose one chooses to spend time in the woods traveling up and down paths winding willy-nilly over and through terrain versus sitting in a local friendly establishment eating fried foods for the afternoon, washing them down with sudsy drinks, and, oh, bring me another pitcher, too.
Here is a breakthrough . . . a fit person, should they choose, can do both. More likely, however, will be the priority of exercise in one's life, the Sirens of the trail seducing will thus cause one to vacate the dark side.
What my new friend introducing me as a fitness nut didn't know, but I do: I am just an acorn in a truck-bed full of coconuts when it comes to elite conditioning. Examine the contrasts, for example, at the 2011 United States Snowshoe National Championship held in Cable, Wisconsin, where many bounded up the loooong hills while I thought walking them was going too fast.
Compared to the broad population (as in size), I find myself caring deeply about health and performance and strength and endurance with the ability to take it, to enjoy it. With the result one increases the capacity to handle even tougher life loads if they come, and unless you hide underneath a bushel, they will.
Much like a bollock holding sail as storms of reality wreck havoc, they come a-roaring. Gordon Lightfoot sang touchingly in his tribute to The Wreck of the Edmund Fitzgerald ". . . when the Gales of November came early . . ." Life challenges — or tragedies — don't appear on our preferred schedule.
All of these thoughts reminded me the best answer to the friend should have been "Me? a fitness nut? You betcha!"
What would YOUR answer be? Email me phillipgary@snowshoemag.com. We'll list some of the best ones on FaceBook.
Steve Ilg's Wholistic Fitness "Transformation through Personal Fitness since 1982" http://wholisticfitness.com/
Check out his "Why We Choose To Shoe" at the USSSA:
www.snowshoeracing.com
Reference from Pee Wee Herman's Big Adventure (1985, Warner Brothers)
See Phillip's book, HARMONIZING: Keys to Living in the Song of Life, at amzn http://to/hLfjP9