Columbia's Heat Elite Jacket and Mountain Guard Hat are great examples of the company's Omni-Heat technology at work. The Heat Elite's combination of thermal insulation and reflective features provide the ultimate warmth in cold weather conditions. It's most redeeming quality comes from the powers of Omni-Heat – retaining heat and keeping it around the body. The Mountain Guard does the same, keeping heat around the head. The Heat Elite and Mountain Guard Hat pairing perform as advertised: retaining heat around the most important areas. While snowshoers have no problem conducting heat, it's the retaining heat part that becomes the most vital element to a long day outdoors.
No need to overdress while wearing the Heat Elite Jacket. A simple wool base layer to help wick-away moisture is all that's needed on a mildly cold day of snowshoeing. Even in colder conditions – around the single-digits – the Heat Elite can do the job. However, in those extreme cold situations, always pack an extra base layer in case conditions worsen.
The science behind Omni-Heat has a great story. Inspired by space blankets, Omni-Heat reflects and retains body heat by using ultra-breathable fabric dots. At a distance, the fabric has a shiny silver layer over a black fleece (on most garments). Up close, the tiny silver dots are revealed. These dots are interspersed throughout the fabric to wick-away moisture and disperse excess heat.
Snowshoe Magazine and its readers have become very familiar with Omni-Heat technology, thanks to Columbia's Bugatech Lite Omni-Heat boots. Over the past few months, more than 30 people received the Bugatech boots and have blogged about their experiences. Read more about what they have to say about the boots and the Omni-Heat technology: https://www.snowshoemag.com/blogs.cfm.
It's important to trust the Heat Elite's heat retaining features. Although it's the Columbia Omni-Heat technology at the forefront of the jacket's core performance, Columbia threw in its Omni-Shield advanced repellency technology.
According to Columbia, Omni-Shield is a "coated fabric resists all liquids below 170F from absorbing into the yarns and staining the garment (without any effect on the feel of the material). The fabric itself will also dry three to five times faster than untreated fabric, without holding moisture like a conventional fabric, meaning it stays lighter even when it's wet."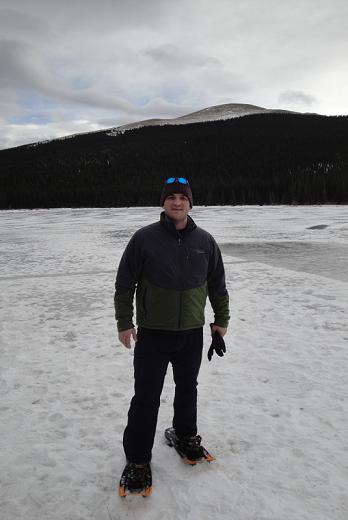 Keep in mind, the Heat Elite jacket is a lightweight fleece – not to take away from its luster. At heart, it has the warmth qualities of a parka. It features a 100 percent fleece and polyester shell; a 100 percent polyester lining; and 50 percent polyester and 50 percent recycled polyester insulation. While this may seem like an everyday fleece (no polyester thrills), it's the Omni-Heat and Omni-Shield technologies that make it unique and powerful.
Add all this up, and the Heat Elite is still breathable and waterproof – even with a reinforced chest area and shoulders. During my snowshoe outings using the Heat Elite, I frequently used the jacket's underarm venting. In some cases, I neared problems with overheating, which was easily remedied by venting. Other helpful features include Invizzip pockets and a zip-closed security pocket.
So that leaves the Mountain Guard Hat. Columbia is so confident in Omni-Heat that they're throwing it in about every garment, including boots and hats. Because it works. And it's perfect for snowshoeing. The Mountain Guard shell is 50 percent acrylic and 50 percent wool; and the lining is 100 percent polyester stamped with the Omni-Heat technology.
The hat's plush fleece lining offers comfort against the skin. The earflaps can be worn down for extra coverage or can be worn up using the buttons and loops. The Mountain Guard is a great snowshoeing hat, especially in big snow situations. After a long snowshoeing excursion, the hat will collect snow but won't affect retaining heat around the head.
Columbia has set a standard in outdoor clothing that's difficult to beat. I use Omni-Heat garments and gear in most snowshoeing experiences. They have quick, "go-to" reliability and never disappoint. After using the Heat Elite and Mountain Guard frequently, they show no signs of heat-retaining loss or degrading of the fabric.
For more information on the Columbia Heat Elite Jacket, visit http://bit.ly/f0TPW2. To purchase the Heat Elite Jacket, click here.
For more information on the Columbia Mountain Guard Hat, visit http://bit.ly/dKRyeR.