A record turnout determines what? That local favorite, Jared Scott, still takes the win with this one advantage . . . He's wearing Kathoola's famous snowshoes with the detachable shoe? No! He's wearing Kahtoola's new Racing snowshoe with a one piece design, their first ever such design, and finishes with a sizzling 56:34, and in Arizona, too.
A few weeks later the temperatures dropped to the mid-teens virtually paralyzing the state with unheard of cold, but not for this race termed "Super awesome," by Tim Allen from the KickStand Kafe at the Flagstaff Nordic Center.
Scott Oberbreckling, 47, not quite twice Scott's age, pulled in a 58:11 missing the upset by a handful of seconds each kilometer. Mark Ulm captured third overall by leading John Bogen across the finish with about the same margin in a final 1:06. Mark Thurston's 1:08 captured fifth. Bob Barry and Tobin Purslow earned sixth and seventh.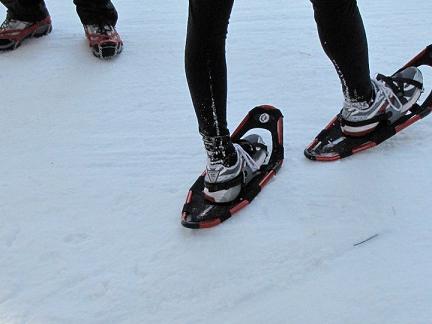 Youngest competitor in the 10 km qualifier, sixteen-year-old Levi Howard, won eighth overall in 1:23.
The racing tightened up again as Jut Wynn's 1:28 captured ninth, but the fight was close to the final spot in the top ten. Andres Santiago, 37, snowshoed by Mark Williams, 42, for a four-second win. Joel Axler trailed by less than a minute. Aaryn Baltutis' luck showed with his 13th finishing position.
Katy Abrams won the women's class with a comfortable margin over Andrea Devrome.
The 5 Km event was a masterful win by master racer Abe Springer, 45, and his 33:11 time.Glen Hansen took second, though trailing Springer by four minutes. The first woman finisher, Anna Kobb, also was third overall. In a race of the Johns, John Lachowitzer edged John Lowe for third male. Julie Dunston snuck in sixth overall but second in class while Mackenzie Lurie followed next. Women snowshoers outnumbered the men for this race.
Special kudos to Louella Holter and Jim Bice for winning the most senior finishers of the day.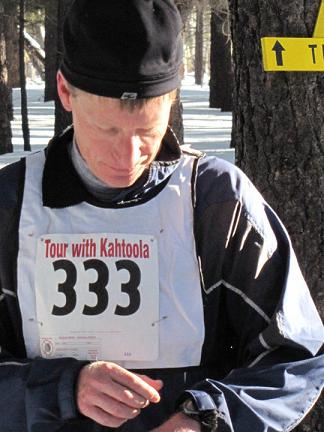 This race is a Kahtoola day on the beautiful trails of the Flagstaff Nordic Center. The 5 km race is over gentle terrain and rolling, packed trails.
The 10 km is far more challenging with sustained climbing and technical downhill runs. It surprises as a snowshoe challenge in a state whose symbol is the sun . . . .
Kahtoola provides demo models for all to test at this race, adding prizes and giveaways, too. The company is Flagstaff based, manufacturing snow travel systems. This race succeeds because of them. The name of the event tells all: no snow, but go . . . except on winter trails.
Coach Steve Ilg raced the first year's event some time ago with snowshoes even though there was no snow — now that's courage. Try it sometime. He was the cheerleader encouraging snowshoe racing at the Nordic Center, and the race gives him his credit for leading the way.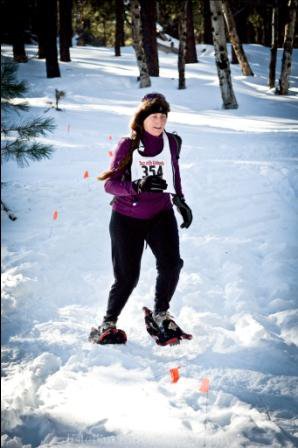 For more information: www.Kahtoola.com
USSSA Snowshoe Championships: www.snowshoeracing.com
Contact Coach Steve Ilg
http://wholisticfitness.com/
Write: phillipgary@snowshoemag.com
For a free email subscription of Snowshoe Magazine: https://www.snowshoemag.com/subscribe.cfm.
New! HARMONIZING: Keys to Living in the Song of Life by Phillip Gary Smith
www.iHarmonizing.com.