I always thought my perfect job would be as a gear tester. As someone smart once said, be careful what you wish for: Columbia Sportswear and Snowshoe Magazine gave me my dream shot, and a chance to test the Bugatech Lite Omni-Heat snowshoeing boots. I was at first both pleased with the comfort and light weight, but skeptical of how they would perform under the extremes of elevations in excess of 11,000 feet above sea level and temperatures as low as 13 degrees F. I soon found myself pleasantly surprised.
These sport specific boots are light weight and comfortable, and the high ankles are both supportive and serve to keep out snow when post holing. They fill a nitch between heavier mountaineering boots and lighter running or approach shoes.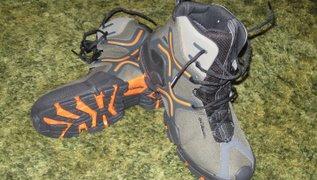 I paired them with the MSR Lightening ascent snowshoes and they got along smartly. They are comfortable right out of the box with little to no break-in required, and are made with what Columbia calls "Omni-Heat Technology," which to us non-boot makers appears to be foil or space-blanket-like treatments on inside surfaces and foot beds.
My "proving grounds" included both Berthoud Pass and Jones Pass, in Colorado's Front Range, as well as Rocky Mountain National Park, and the Gore Mountain Range in Northern Central Colorado.
Jones Pass, 10,800 Feet, Front Range, Colo. (photo No. 2)
My snowshoeing "disposition" usually includes mountaineering type terrain for which I am usually selecting a boot that is crampon compatible for the steeper terrain. But for any terrain that can be navigated with a snowshoe alone, these boots are well suited. I've even found they are equally suitable for trundling around town in ski country, just to keep one's feet warm and dry.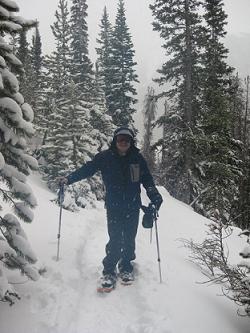 Chasm Junction, 11,800 Feet, Rocky Mountain National Park, Colo., Christmas Day 2010 (photo No. 3)
For my "final exam" in these boots, I participated in my first ever snowshoe race, the 5k Swift Skedaddle, in Silverthorne, CO. This race, and its sister 10k USSSA Regional Qualifier race, are held on a demanding course at elevations above 9,000 feet.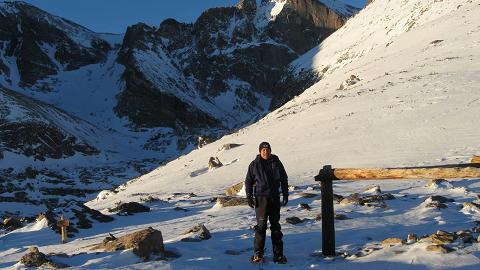 Swift Skedaddle 5k Snowshoe Race, Silverthorne, Colo. (photo No. 4)
I used a set of Crescent Moon race snowshoes for this event and they were definitely worth a try. The combination of the Bugatech Lite Omni-Heat and the race specific snowshoes made the whole event more enjoyable. I now have a Personal Record 5k race time to try and beat using these lightweight boots. The boots definitely outperformed my nearly exploded lungs on this tough course.
The bottom line is if you want comfort and performance with little to no break-in, these boots are the ticket.
For more information about the Columbia Bugatech Lite Omni-Heat Boots, visit http://bit.ly/euXTXg. To purchase the Columbia Bugatech Lite Omni-Heat Boots, click here.