Easton ARTICA Series Snowshoes have been recognized for their innovative features and ergonomic design by the Outdoor media, gear experts, and testers across the country.
Early wooden snowshoes were first designed to provide workable flotation in deep or fluffy snow conditions. Snowshoes and their users have come a long way since then. Today's active adventurer needs durable, high performance and lightweight gear to maximize their experience. They need their snowshoes to be easy to use and comfortable to wear. Snowshoes must be maneuverable and work with you to conserve energy and help you go farther. Easton is known for using the most advanced materials and innovative design to improve outdoor gear.
After years of supplying high quality snowshoe frames to the industry, Easton took their own approach to snowshoe design. When Easton entered the snowshoe market, they set out to make a better more comfortable shoe while delivering peak performance. The result is the ergonomically designed ARTICA series snowshoes with multiple patent-pending performance features.
With a moniker like Go Farther, what makes Easton performance snowshoes different?
Frame
Made on a USA-built Easton Aluminum foundation, ARTICA snowshoes feature a two-piece frame made to flex and articulate over uneven terrain. The asymmetrical shape allows the shoes to nest together between every step for a more natural stride and more stable movement. The innovative frame design supports a patent-pending pivot that absorbs the stresses normally transferred to the ankle, knee, and hip while providing unsurpassed stability and control.
Pivot System
The unique Virtual Pivot Traction Cam utilizes two independent pivot arms under the binding. This dual-arm innovation creates a step-leveling virtual third pivot-point that allows the crampon to drop below the decking for a deeper dig and improved traction. This specialized design also creates a more natural roll-through with every step reducing stress and fatigue in the joints.
Crampon
A patent-pending split-toe crampon adds to the ergonomic design. The high strength steel crampon on the Trail and Hike models (forged aluminum, Backcountry model) is split down the center to allow the finger-like claws on both sides of the foot to pivot independently. This split crampon moves with the natural balancing pressures of each step over any terrain for better traction, stability and a more responsive shoe. The ARTICA platform is designed to be an extension of the foot that allows your body to move more naturally while delivering the stability and maneuverability needed by advanced hikers.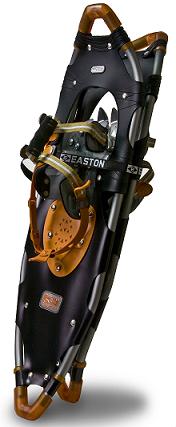 Binding
Getting into and out of snowshoes has never been easier. Easton designed the patent-pending Quick-Cinch bindings for a one-handed, pull-and-go entry and exit. Quick-Cinch uses a traction base and specialized padding to cradle the boot and alleviate pressure points. The molded handle on the tightening strap is easy to use with gloves and is designed to secure your entire foot with a simple tug.
ARTICA snowshoes are constructed from 80 percent recyclable materials and come in three performance levels. Trail and Hike models are designed and contoured specially for the unique strides of men and women while the advanced Backcountry model offers forged aerospace aluminum crampons and aggressive rear crampon for more serious excursions. All models are available in 21, 25, or 30-inch sizes to perfectly match individual activity level. The ergonomic performance features of Easton snowshoes work together to absorb torque, shed snow, and conserve energy with every step to help you Go Farther.
To see all the specs, click here. For full details visit www.EastonMountainProducts.com.
***The following advertorial was paid for by Easton Mountain Products.***