(This article is brought to you with the compliments of StartLine Running Store, a sponsor of the Superior Spring Races. "Regardless of your goal, our focus is to help you get to the StartLine." Their experienced runners and triathletes can be reached at www.start-line.com, Minnetonka, Minn.)
When Margot Hutchins, Houghton, MI, entered the Superior 50 km race and UMTR Ultra Championship, she had to come to grips with the distance — and the solitude. "This was my first ultra marathon, and I was struggling to wrap my head around how to 'race' that sort of distance, especially knowing that I might very well be out on my own in the woods for quite a while." Margot isn't a stranger to these trails as she won the 25 km in the 2008 edition. It certainly may have helped to strategize with fellow Michigan Tech Cross Country and Track and Field teammate, Leslie Semler, while on their drive to Lutsen. All Leslie did this day was to win and simultaneously reset her existing course record (2009) for the 25 km by better than one-half minute.
Margot (Finish photo, right) did not lead the entire 50 km race because "I wasn't sure what sort of pace made sense on my first ultra. I had heard through the grapevine that Helen Lavin from Minneapolis was a strong, smart runner and looked for her at the start." Helen won the maiden UMTR Ultra Championship at Afton in 2008, and is always a factor. "I tucked in behind her and Valeria LaRosa (Minneapolis) for the beginning of the race. I was really impressed with how they ran the downhills. Rocky downhills are really tough for me, and there are a lot of them in this race. I took the lead on the (outbound) climb up Moose Mountain. I figured Helen and Val would catch me on the downhill, but I didn't see them again. I was running scared to the Carlton Peak turnaround. I didn't know where the other women were, and I was just waiting for them to catch me. After the turnaround, I saw that Kim (Holak) was about four minutes behind me. I thought that four minutes is not a lot of time in the scheme of 15 miles. I was definitely worried about making rookie mistakes; I knew they were experienced, fast runners. I was fortunate to have a group of guys to run with back to Oberg."
She continued, "The last section of the course, from Oberg to the finish was certainly tough. I ski-walked almost all the hills. That section of trail took me a lot longer going back than it did coming out. I was tired. However, making my way up the switchbacks at Mystery, I felt energized. I was really excited to be nearing the end of the race. I knew the last few miles of trail fairly well, but still had to walk on some of the rockier and muddier sections. When I could hear the Poplar River, I felt something close to euphoric. I couldn't believe I'd made it. I had to check with the timing crew to confirm that I really was the first woman — I still couldn't believe it."
Margot's 4:47:14 won her the victory, UMTR Championship, and eleventh overall. She achieved another honor recently, her PhD. Adding the Superior 50 km win and the UMTR Championship with the super degree, one can safely deduce Margot had a great May. With more ultra experience, she will ultimately earn a Doctorate of Trails.
Second place, but first woman leading the new master's class? Nationally ranked Kim Holak, Duluth, truly a trail professor meritorious. Helen ran in minutes later for second in the under 40 group, followed by Valeria. A top contender for race of the day was between second and third masters women as Kris Kolenz edged Lisa Messerer, both the same age both from Duluth, by just 28 seconds at the swimming pool banner. Most courageous finish for the 50 km race came from the last person to cross the line, Sarah Pritzl, WI, who was attempting this distance for the first time.
Leslie Semler (Finish photo, left) came back to Lutsen this year from her Duluth home, a few hours down highway 61, the highway made famous in Bob Dylan's music, to challenge her own 25 km course record set just last year. "With the large number of people entered, I wanted to be cautious at the beginning as I went out too hard the first time I ran here with poor results." That was the 2008 race where friend, Margot Hutchins, won and Leslie took fourth with 2:25.
"The start ended up being pretty relaxed though, with a few women ahead of me. I was comfortable enough with the pace to work my way up to the front by the time we hit the trail, so I did lead most of the way. I felt mostly good the whole way; there were the usual spots where I felt tired and didn't know how long I could keep running hard but no major problems. My greatest challenge for this particular run was staying focused the second half. I only saw a few people the entire second half and was getting tired, so I did a little more stumbling and daydreaming than I would have liked during miles 10 through 13," which is coming into and over Mystery." Leslie enjoys these trails and training on the Duluth SHT sections. So what if there is a little mud? "Going out, I carefully hopped around and through whatever appeared to be drier spots, but on the way back, I pretty much ran through everything and didn't hit anything too deep or slippery."
Leslie got her first taste of a 50 km at the Wild Duluth, an October version of the 50 km races on the SHT. "Wild Duluth 50 km was my first ultra. I also thought it was just fantastic though I did take a little detour. That is terrible since I missed a turn that is only six miles from my house." Leslie will fit right in as a competitor for the 2011 Superior 50 km with her speed and prowess for following course signs.
Kari Brown, Garfield, finished second and second under 40, followed by international competitor, Deirdre Hassett, Ireland, for third/third. Deirdre is photographed with friend, Helen Lavin, the Midwest's Miss All-Things-Irish.
Julie Reichhoff, Duluth, won the Masters class followed by Long Lake's Jan Guenther and Anne Flueckiger, Duluth. Youngest woman of either race was 17 year old Kaila Carpenter, Duluth.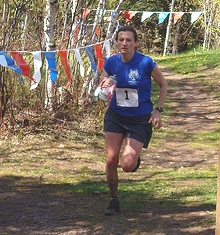 A well-known entrant with unique talents, Jason Husveth described the race as "a 31 mile tour of the spring flora of the Superior Hiking Trail." Jason was the featured speaker at the UMTR Awards Fest last Fall (save the date for 2010: Saturday, November 13). All of the honors, like the Ultra Championships, are presented in a fast-paced program. As Founder and President of his own company, Critical Connections Ecological Services, Inc. Jason is an expert in all things nature. So I asked him to identify something unique on the trail today that we could celebrate. I got the idea after viewing a poster nicely done on selected flowers on the SHT by 50 km competitor, Lisa Messerer, displayed in the registration area.
What a find Jason made — "You asked if there was one species that stuck out, and there was: The species was 'Adoxa moschatellina.' Do a search; there are lots of pictures available. It is a diminutive herbaceous wildflower I have never seen before but have read about, and knew exactly what it was, the moment I saw it as I ran by it. I love it when that happens. It was growing along the cool, shady, north facing white-cedar dominated ridge tops, immediately adjacent to the trail. This species used to be considered very rare in Minnesota until it had been recently documented numerous times, but is still listed as 'Threatened' in Wisconsin." Because of the four flowers facing horizontally and one vertically watching over the others, the flower is nicknamed a Five-faced Bishop. Lisa, observing it also, exclaimed, "It was a true find!"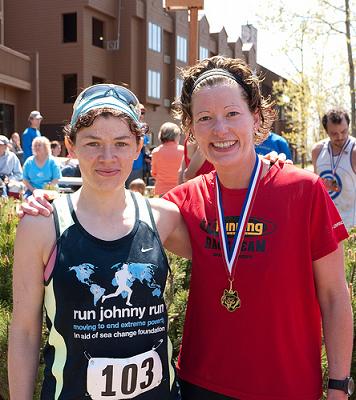 A lesson in reality was exhibited to trail racers this thrilling day: it is critical for all to attend prerace briefings and hear the special instructions and course preview. The most professional combo in the country, Donny Clark and Bonnie Riley (photo, after explaining the trail flags in the prerace meeting) leads Superior trail marking and has since, well, since they were much younger. Whether an eight minute mile competitor or eight-hour finisher, one has to ask themselves when not making the prerace briefing, "Am I serious . . . or not."
Every competitor contacting me wanted to thank the volunteers for the terrific aid stations, the workers staging the event, along with recognizing race directors, Gretchen and Mike Perbix. This record day reflects all of their dedication to a quality event. As this was also the UMTR Championship race, one note made particular reference to that. "I have to give great credit to how far Upper Midwest Trail Runners organization has come. Without a doubt, they have some of the strongest trail series in the country with trail and ultra championships as well. It's a nice complement to the overall strength of the road running scene in the Minnesota/Wisconsin region, one of the top running areas in the nation," noted Wynn Davis, a former UMTR Board Member.
The 2010 Superior Spring Races exhibited some of the most exciting outcomes on one of the most special trail days in the region's history. Longfellow would have proud of his illusory forests beside Gitchigumi:
From the brow of Hiawatha
Gone was every trace of sorrow,
As the fog from off the water,
As the mist from off the meadow.
With a smile of joy and triumph,
With a look of exultation . . . .
Photo Credits: Gretchen Perbix
Superior Spring Races: http://superiortrailrace.com/spring/
UMTR Fab 5 Fifties Series: http://www.uppermidwesttrailrunners.com/fab5fifties.html
Upper Midwest Trail Runners: www.uppermidwesttrailrunners.com
United States Snowshoe Association: www.snowshoeracing.com
Ultra Superior: www.ultrasuperior.com
Additions/comments: phillipgary@snowshoemag.com
To subscribe to Snowshoe Magazine's free e-mail newsletter: https://www.snowshoemag.com/subscribe.cfm.