For decades, Sun Valley, Idaho has been regarded as one of the best ski resorts in the world. In fact, it was the first recognized ski resort in the country, dating back to 1937. In addition to the ski-related activities, snowshoeing is also an enduring wintertime sport throughout Sun Valley.
With Sun Valley billing itself as Nordic Town USA, it seems only fitting they would host the inaugural Sun Valley Nordic Festival, which was held Jan. 30 – Feb. 7. The Sun Valley 5K Snowshoe Challenge was just one of several events held during the nine-day event. According to Ramona Duke of the Sun Valley/Ketchum Convention and Visitors Bureau, other highlights of the Nordic Festival included:
Ski the Rails – a family-friendly "ski at your own pace" tour along the Wood River Trail
Nordic Night of Champions – a send-off celebration for local Nordic skiers who would soon participate in the 2010 Winter Olympics in Vancouver, B.C.
Sun Valley Nordic Sprint Races – featuring a 1.5K course and cash prizes
200K Trails Challenge – a non-competitive challenge to ski all of the area's world class trails and be eligible for prize drawings
Downtown Ketchum Nordic Night & Concert – a celebration of all things Nordic
Boulder Mountain Tour – an annual Nordic race since 1975, attracts more than 800 participants from around the country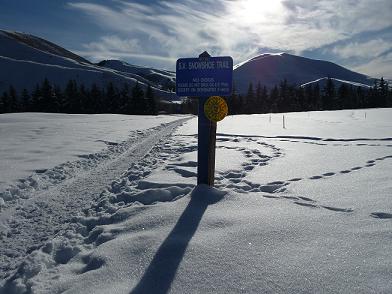 The Nordic Night of Champions was a very special two-hour Olympic-themed party. Several hundred attended the event, which was held at the Sun Valley Club, a 58,000-square-foot facility that doubles as the golf clubhouse and Nordic Center. It was a send off for Sun Valley-area Olympic athletes Morgan Arritola, a Nordic skier, and Graham Watanabe, a snowboard cross competitor. One of the guest speakers was Dick Fosbury, an Olympic gold medalist in the high jump at the 1968 Summer Games in Mexico City. Fosbury, whose famed "Fosbury Flop" revolutionized the sport of high jumping, is now an avid snowshoer. "It is such a wonderful activity and a great way to experience the outdoors," said the long-time Sun Valley resident.

Sun Valley Nordic & Snowshoe Center
Sitting at 6,000 feet above sea level, Sun Valley is guaranteed a certain amount of snow each year, which is why the Nordic Center was opened in 1970. Recently, the Sun Valley Nordic & Snowshoe Center was relocated to the Sun Valley Club. The surrounding area features some of the best cross-country skiing in America. It is so impressive that members of the Norwegian Olympic cross-country ski team came here to train just prior to the February Winter Games in Vancouver, B.C. In all, 42 Km of trails are available at the Sun Valley Nordic & Snowshoe Center, with several of those kilometers designated solely for snowshoeing.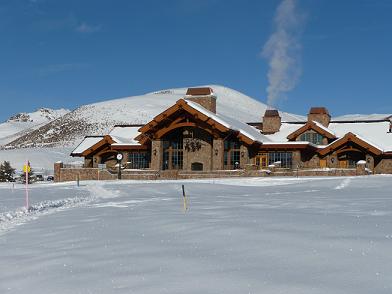 One of the serene snowshoe trails will take you to Trail Creek Cabin, a landmark and part of the Sun Valley Resort since 1937. Constructed of logs and brick, the cabin continues to offer the warm and cozy rough-hewn atmosphere of the area's early mining and ranching days. On more than one occasion, novelist Ernest Hemingway and other famous personalities celebrated New Year's Eve at Trail Creek Cabin. The Hemingway memorial is a short distance away. Trail Creek Cabin also offers exquisite meals. A unique method for arriving is via a horse-drawn sleigh ride through the pine trees. The rides last about a half hour, and can get very chilly at this high altitude. Fortunately, blankets are provided along with starry, starry nights.
Another great snowshoeing venue is Galena Lodge, located 24 miles north of Sun Valley on Hwy. 75. The cozy lodge is one of the few buildings remaining from this former 1800s mining town. Visitors will find 113 Km of groomed trails for skate and classic skiing. Snowshoe and dog trails are available as well. Psycho Adventure is one of the more challenging snowshoe trails at Galena Lodge. It's a 5K loop with lots of hilly terrain that crosses over the Big Wood River on a few occasions. Also, the Wood River Trail follows the historic Union Pacific Railroad and connects 22 miles between the towns of Bellevue and Ketchum.
Galena Lodge also offers snowshoe tours. Try the all-inclusive private day tour that includes lunch, your guide, snowshoe rentals, and a trail pass. Free guided snowshoe walks are available every Wednesday and Thursday throughout the winter season. For a special touch, experience the full moon four-course dinner. After dinner, strap on the snowshoes and head out for a moonlit walk under the stars.
After an enjoyable day of snowshoeing, there are many dining options throughout Sun Valley. A very nice surprise is the inexpensive prices. One place that's a must-visit is the Roundhouse Restaurant. Opened in 1939, Roundhouse was the first day lodge on Bald Mountain. It is located midway up the mountain on the River Run side. Take the newly-opened Roundhouse Gondola, a short scenic ride from River Run Day Lodge to the restaurant for unique dining and spectacular scenery. Tables are set around a central stone fireplace. Your meal will rival the historic ambience of the lodge, while the accordion player is a nice touch.
With numerous après ski and dining options available throughout Sun Valley/Ketchum, here are just a few to consider: Atkinsons' Market offers some very eclectic food items; Big Wood Bread; CIRO Restaurant & Wine Bar; Grumpy's; Ketchum Grill; Lefty's Bar & Grill; Rocky Mountain Chocolate Factory; Smoky Mountain Pizza & Pasta; Sun Valley Resort-Gretchens Restaurant; Sushi on Second; and the Roosevelt Grille.
For a comprehensive dining, lodging, and activities list, visit http://www.visitsunvalley.com.
To subscribe to Snowshoe Magazine's free e-mail
newsletter: https://www.snowshoemag.com/subscribe.cfm.