People run, bike, walk and swim for charity. So why not snowshoe?
On the last weekend in February, 17 people tried just that, snowshoeing around Loche Vale Lake and Black Lake in Rocky Mountain National Park near Estes Park, Colo.
The snowshoeing event came courtesy of the Rocky Mountain chapter of Team in Training (TNT), which is the Leukemia & Lymphoma Society's charity sports training program.   The group holds a variety of athletic events as fundraisers to combat blood cancers such as lymphoma and leukemia. Money raised through the organization also helps make blood cancer patients and their families more comfortable.
The 17 participants who snowshoed through parts of Rocky Mountain National Park raised more than $35,000, trekking along either a 6.2 mile or 10.2 mile course, said organizer Cindy Parr. "I am so pleased to announce that all of our participants completed their finale snowshoe adventures with huge smiles on their faces," Parr said after the Feb. 27 event.
Money from the event is still coming in, so the total amount of money raised is expected to go up, she said.
Team in Training has been doing sporting events fundraisers for years, but this is the first time the group has tried snowshoeing. The Feb. 27 event in Colorado was a test case for Team in Training. If it worked, the organization plans to spread the idea to other chapters elsewhere in the country.
It worked, big time, Parr said. Even the snow gods were in the mood to give by dumping some fresh powder on the snowshoe course in the hours leading up to the trek. The 17 people who spent the day snowshoeing solicited money from friends, family and co-workers – accounting for the thousands of dollars in pledges. Corporate sponsors also helped out, and participants held fundraising events, such as breakfast at an Applebee's restaurant that brought in more than $1,000.
The snowshoe event was successful even with Rocky Mountain National Park restrictions that keep the size of hiking and snowshoeing groups to a minimum.
The Rocky Mountain chapter of Team in Training plans no fewer than 14 marathons, triathlons, cycling races and other events this summer and fall to raise more money to fight blood cancers. Parr said given the success of this year's snowshoe event, the chapter will probably hold a similar even next winter. The idea is also expected to spread to other Team in Training chapters in snowy parts of the nations.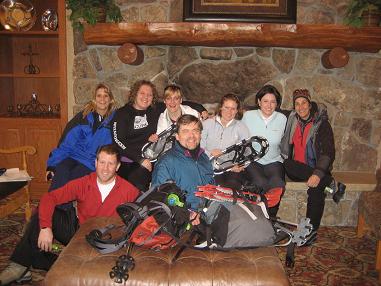 None of next winter's events have been scheduled yet. They will likely occur during the course of the winter, with a finale event, similar to this year's, held again in Rocky Mountain National Park, Parr said. The finale event next year will probably take place in the middle of March, she said.
According to Team in Training's Web site, 420,000 participants in various athletic events have raised more than $1 billion over its 22-year history. TNT has also become the world's largest endurance sports training program. Within the Rocky Mountain chapter of TNT, based in Denver, about 5,000 people have raised a total of $16 million through various sporting events to combat blood cancers.
TNT's parent organization, the Leukemia and Lymphoma Society, is the world's largest voluntary health organization dedicated to blood cancer research, according to the Society's Web site.
For more information on the Rocky Mountain Chapter of TNT, visit http://www.teamintraining.org/rm.