One thing I love about Mountain Hardwear is how their branding matches their product – it's a seamless connection between reliable and au courant for outdoor life. So, I got my hands on the Synchro, Parbat and the Transition jackets. All three are great for snowshoeing, but each take on a different scope for the type of shoeing you're pursuing for the day.
The Synchro–
When I first started wearing the Mountain Hardwear Synchro jacket, it had a magical sense about it – people liked how it looked. I received compliment after compliment when I wore it. And providing me with compliments goes a long way. The Synchro is a stylish softshell that's lightweight and just the right outer layer for a mild day of snowshoeing.
The Synchro's welded chest and hand pockets have – conveniently – water resistant zippers that provide great storage for just about anything.
A microfleece lining adds to the Synchro's comfort and some added warmth. It's made from 3-layer Conduit Softshell stretch-woven nylon fabric and fits comfortably. With added compliments from your friends as a bonus.
Features:
*Attached hood :: Drawcord at neck
*Welded chest pockets with water-resistant zips
*Welded hand pockets with water-resistant zips
*Exterior taped, water-resistant seams
*One handed hem drawcords
*Interior zip pocket
*Interior water bottle pocket
*Hidden Power Stretch cuff
Parbat Jacket–
The Parbat is an average snowshoeing jacket for spring weather. It holds up well when snowshoeing – boasts a hardened exterior face finish for added abrasion resistance. However, I suggest wearing it as an insulating layer.
Features:
*Collar and cuff snap tabs
*Interior zip pocket
*Micro-chamois lined chin guard
*One handed hem drawcord
*Wind-resistant and lightweight microfleece
*Zip chest pocket
*Zip hand pockets
*Zip sleeve pocket
*Zips into all Trifecta System shells
*Weight: 26 oz. / 741 grams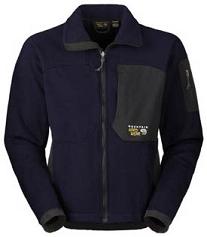 Transition Jacket–
I like the transition jacket; it certainly fits well in my arsenal of snowshoeing jackets. However, it's geared more for snowshoe running. It's lightweight, versatile and very reliable in harsh weather, which is part of its charm.
One of the features I enjoy is the Transition's MP3 pocket with earpiece cord exit. It helps holster my iPod when I'm running, which is a bonus for me. I can't run without my iPod. I also enjoy the rear zip pocket. When I no longer need my hat, it fits well in the rear pocket. Not a bad jacket!
Features:
*100% polyester Windstopper Featherweight; 92% polyester, 8% elastane Windstopper
*Featherweight Stretch
*360 degree reflectivity
*Articulated sleeves
*Close-fitting, athletic cut
*Full front zipper with internal draft flap/chin guard
*Fully taped construction with brushed taping
*Inner cuffs with thumb loops
*Interior MP3 pocket with earpiece cord exit
*Long cut back
*Rear zip pocket
*Slim fitting hood for under-helmet use
*Stretch side and sleeve cuff panels
*Updated fabric and fit
*Windproof and breathable
*Weight: 13 oz. / 376 grams
For more information on Mountain Hardwear products, visit http://www.mountainhardwear.com.
To purchase the Synchro Jacket from Backcountry.com, click here. To purchase the Parbat Jacket, click here. To purchase the Transition Jacket, click here.