Protecting sensitive electronic devices – such as GPS units, cell phones, etc. – becomes a necessity when snowshoeing. Finding the products to help make protecting gear possible is an entirely different issue. Enter Bwana Gear.
Bwana manufacturers an inflatable protective case that allows snowshoers accessibility, ease of use and the ultimate storage-within-storage product. Known as air protection technology, each Bwana case inflates by using the hand-operated pump sponge (located on the closable top flap of each case). Bwana provides a number of features for each case it produces, including those that are form-fitting, waterproof, floatable, splashproof, and other beneficial options to snowshoers.
My testing of the Bwana case was accomplished in just a couple steps:
*I placed my GPS device in the Bwana case.
*I then inflated the case to capacity.
*And finally, I threw the case across the frozen waters of Echo Lake.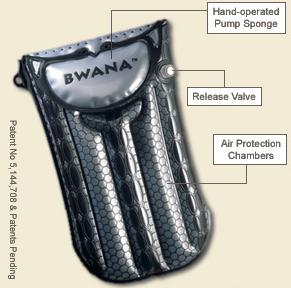 My GPS device survived with no problems. Although this particular case wasn't waterproof, I had no problems with snow or other water-related issues. Plus, the outer cover of the Bwana case held its own after skidding across the ice and withstanding a powerful impact.
Of course you most likely will not throw your Bwana case across the ice of a frozen lake or river, but it's good to know your gear is protected no matter the circumstance. I would suggest investing your dollars in a couple Bwana cases for the sake of your gear…and the future of snowshoeing.
Stay tuned as Bwana debuts more product models that will work perfectly for snowshoeing. And, priced reasonably, Bwana cases are an accessory that snowshoers (and other winter sports enthusiasts) will appreciate as the need for gear protection becomes more and more important.
For more information on Bwana Gear, visit http://www.bwanagear.com.