Downtown Anchorage, Alaska was crowded on Saturday, March 5, as spectators and dog teams gathered for the ceremonial start of the 1,000-mile Iditarod race.
Rules dictate that competitors carry a pair of snowshoes, an item that can provide a life-saving means of backup mobility for people traveling with dogs. Mushers also depend on snowshoes to break trail in front of their dogsleds when snow gets too deep.
With the intimate link between snowshoeing and mushing, it's appropriate that the Iditarod shared a starting date this year with another winter championship race, which was brewing up across town at Kincaid Park. The 5th Annual Nike ACG U.S. National Snowshoe Championship race drew 153 competitors representing 17 states to compete in 5K and 10K races. The weekend also featured the Atlas Snowshoe Citizen's 5K and 10K snowshoe races and a Kid's Kilo snowshoe event.
Racers reported that the snow conditions were great, though some racers hailing form the Northeast commented that the mid-thirty degree temperatures seemed "hot," compared to their home territory, and indeed, it has been a mild winter by Anchorage standards. Kincaid Park is one of only two nordic ski areas in the U.S. certified for 5K, 10K, 15K and 30K international competition.
With music playing from the loudspeaker, racers gathered at the line for the 1 p.m. race. Mark Elmore, U.S. Snowshoe Association Sports Director, signaled the start of the championship race, and then unleashed the Atlas Snowshoes Citizen's 5K and 10K racers 15 minutes later. The Kincaid Park stadium was empty of all but spectators and race coordinators for a few minutes until the first of the racers returned from the birch, alder, and cottonwood forest to loop around the stadium to the finish line.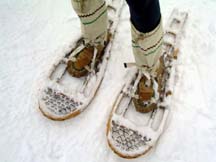 The first senior athlete, a schoolteacher from Rouses Point, N.Y., named Aaron Robertson, said the race was "a good excuse to come to Alaska." It was also a nice opportunity to make up for what he described as a bad race at last year's nationals. He spent much of the race in Anchorage believing he was behind the leaders, and was somewhat surprised to win the men's 10K race.
Early in the race he lost his second place position when his right snowshoe fell off, forcing him to stop, remove his glove, and replace the snowshoe. "A ton of people went by, and I was behind them…somewhere I must have passed them and I thought they were still in front of me, so they kept me going," he said.
He not only passed them, he passed them by a longshot, winning the race in 42 minutes, 19 seconds. Robertson felt good about the race. He spent the last year training hard, running, biking, and snowshoeing when he wasn't busy working as a music teacher.
Charlie Wertheim of Colorado took second at 43:12, clinching a spot on the U.S. National Snowshoe Team for the fourth year in a row. Jesse Haynes of California, Mike McManus of Oregon and Mike Decker of Michigan sped across the line in close order to garner the final three spots on the new U.S. Senior Men's National Snowshoe Team.
Nikki Kimball of Bozeman, Mont., won the women's 10K for the second straight year, finishing in 49:33, for a new total of three national wins out of five
competitions. Kimball is no stranger to Anchorage's Kincaid Park, having competed there three other times in the Cross Country Nationals, biathlon Olympic trials, and the Mountain Running World Cup. Kimball says she's a much better snowshoer than runner and conducted a snowshoeing clinic for Atlas in Bozeman, but reported an almost total lack of snowshoeing opportunities there this winter due to the warm, mostly snowless winter the Inland Northwest is
experiencing.
Though Kimball's win came as no big surprise, the silver and bronze were up for grabs. Karen Melliar-Smith of Colorado claimed the runner-up spot in 53:35, while four women raced for the final three spots on the team. Newcomer Lynann Lorenz of New York took third in 54:44, just three seconds ahead of Texan Laurie Lambert. Then, Cindy Brochman of Minnesota and Meghan Young of New York fought for fifth place, with Brochman crossing the line six seconds ahead of Young with a time of 55:53, qualifying for the Women's U.S. National Showshoe Team.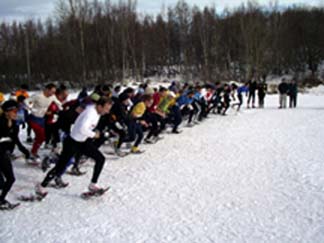 The top five racers among the senior men and women, as well as the top two juniors, were named to the U.S. National Snowshoe Team. Jason Ayr, 17, of Westfield, Mass., and Anna Lieb, 16, of Golden, Colo. were the 5K junior champions. Ayr, a varsity cross-country runner, steamed into the lead from the start and maintained it for a 31-second victory with a time of 23:15. New York's Zachary Rivers came in second with a time of 23:46. Lieb was an enthusiastic winner and snowshoer. She said the race was "really weird and really different (than running) but I loved it. I love it, it's extraordinarily fun and every race is a new experience." She grew up playing in the outdoors, enjoying cross-country skiing, hiking, backpacking, and recreational snowshoeing her whole life.
As for the racecourse, she said, "I thought it was fantastic. I had a good time – there's one hill that makes you want to die, but I think that's part of the experience." Even if she hadn't claimed victory, Lieb would have ended the race with a smile. "I think it's all about having a great time and frolicking in the woods, basically, and I think everyone ought to try it because it doesn't matter if you're an Olympic marathoner or 68 years old and unable to run two miles, you can have a good time snowshoeing." Like many other competitors, both Ayr and Lieb credited their running history as a great background for competitive snowshoe racing, and both were new to the sport.
A variety of snowshoes were present at the nationals, including a traditionally made wooden pair worn by Rick Wilson of Anchorage, Alaska. Wilson won five gold medals in snowshoeing in the Arctic Winter Games before the age limit for the games was lowered to 20 years old after 1998. He said his shoes were custom-made racing snowshoes and were at least as good as higher tech models. "These are lighter, they're faster on downhills, and I do okay on uphills," he said.
In keeping with the Arctic Winter Games requirement of traditional equipment, Wilson wore a pair of smoke-tanned moose hide mukluks from Yukon Territory, which he wore over his socks. A lamp wick served as the binding, basically just a long strap used to tie his feet into the snowshoes.
Another Alaskan, Rocky Reifenstuhl, made the trip down from Fairbanks to compete. He puts snowshoe races on in Fairbanks and observes that snowshoeing is "not as technique-oriented as skiing…it's good because anybody can do it."
The new U.S. National Snowshoe Team was announced at the awards ceremony following the race, and consisted of the top five finishers among senior men and women, and the top two juniors. Though they were not eligible for awards in the U.S. Nationals, the USSSA was honored to have three prominent members of Team Yeti, or the Canada Snowshoe Team, participate in the race. Elmore announced at the awards assembly that he hopes to send the U.S. teams to compete in the European Snowshoe Championships in Italy next winter.
The mood of competitors and spectators alike was jovial and the weather was cooperative, a warm mid-30s without the forecasted chill wind. No racers encountered any moose on the trail, though large numbers of moose are known to reside in 1,500-acre Kincaid Park, and a few people mentioned seeing moose while scouting the trail before the competition. Next year's national race will likely lack the threat of moose interference, but it's sure to offer fun, challenge, and comradeship to all who care to get involved.
At the Adventure Sports Magazine Annual USSSA Members Meeting, conducted Saturday evening at the Coast International Inn, it was announced that the 2006 U.S. National Snowshoe Championships will take place at the Bolton Valley Resort in Vermont, probably in late March 2006.
The U.S. National Snowshoe Championships rotate from region to region each year, and the 2005 event marked the first full cycle. In 2006 the race returns to where they began, the Northeast.
For more information on the U.S. Snowshoe Association and the National Snowshoe Championship Program visit http://www.snowshoeracing.com.